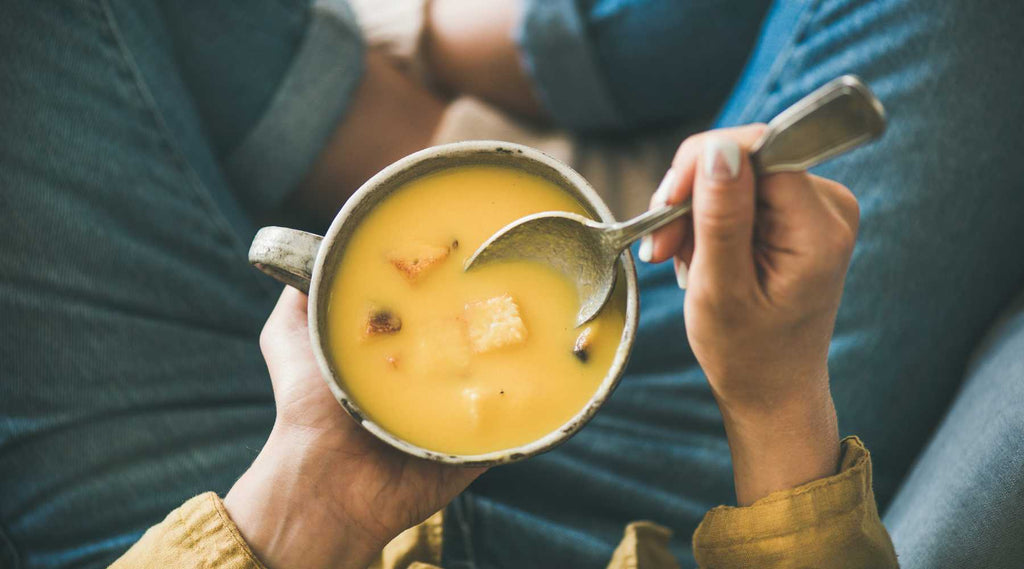 When people think of hearty and warming meals, vegan dishes don't often come to mind. Well, that's where we come in! We've handpicked five yum-worthy meals that will fill you up and make you feel good and ready to take on that winter weather. 
These winter meal ideas are perfect for not only us vegans - vegetarians and carnivores will love them, too! With just how delicious they are, we're sure they'll have a whole new way of looking at vegan-friendly winter meal ideas for the family.
1. Mushroom Risotto Entree
What better way to start off our healthy winter meal ideas list than with an entree? This Mushroom Risotto Entree has all that lovely umami you know and love. You also get wonderful textures from the roasted mushrooms and oven-dried tomatoes. 
This mushroom risotto rice also comes with a cashew-based, butternut squash sauce that you can drizzle on top. Give it a good mix and your meal is ready to be enjoyed. 
Earthy and umami, find out why our Mushroom Risotto Entree is a mainstay in our menu by trying it out yourself! Like all our other meals, it's simply heat and eat. No need to go out of your way to chop and prepare food, we've done the work for you! 
2. Tandoori Cauliflower Bowl
Next up, we've got this tasty Tandoori Cauliflower Bowl. This roasted dish is packed with flavour and that's all thanks to the lovely blend of Indian-inspired seasonings and spices. A hearty and healthy winter meal idea like this deserves balance, and you'll get that with the coconut tzatziki sauce that comes with the bowl. 
At the base, this bowl features perfectly cooked basmati rice. On top, a delicious roasted cauliflower, a serving of chana masala, and a mango chutney!
Seasoned, spiced, and savoury, this Tandoori Cauliflower Bowl is also perfect if you can't have gluten. It's vegan, gluten-free, and absolutely fab!
3. Buffalo Cauliflower Bowl
Another nicey spicey dish on our lineup is this Buffalo Cauliflower Bowl. Our buffalo cauliflower is spiced with none other than Frank's Hot Sauce. It's not just that, too. We've also added our own blend to kick it up a notch - so, you're getting an extra flavourful dish right here! 
You know what goes with buffalo cauliflower? Some ranch. We've kicked ordinary ranch out the window and made our own tahini ranch dressing. It's specially made to go with your meal! To add some oomph to the meal, we've also got quinoa, chickpeas, and avocado.
Our Buffalo Cauliflower Bowl is a winter meal idea that'll certainly make your mouth water. It's not just any plant-based meal either. It's also one that's free from nuts and gluten!
4. Squash Masala Bowl
If you haven't noticed, we love bowls here. With that, our Squash Masala Bowl is a surefire strike! It's wonderful for vegetarian, gluten-free, nut-free, dairy-free, and (of course) vegan diets.
Let's start with our rice. This particular Indian-inspired dish comes with a beet biryani. The beets not only give it colour, but flavour as well. On top, some roasted squash and spinach tofu paneer. To round it all up, a tamarind mustard sauce on the side so you can have as little or as much as you'd like (we actually find ourselves using the sauce up - it's so good!).
The Squash Masala Bowl isn't too spicy. It's got the right amount of kick that's balanced by coconut milk. It's not just spice - it actually tastes nice, too!
5. Plant-based Mac and Cheese
A southern-inspired meal, our Plant-based Mac and Cheese ticks all the boxes as a winter meal idea. It's warming, filling, and satisfying! It's a dish that you'll always finish and keep coming back for more. It's really that good!
This uber comforting dish comes with zero dairy. It comes with our own dreamy and delightful vegan cheddar cheese sauce! The cheese and perfectly cooked macaroni also comes with some toasted panko on top to give it that much-needed texture.
The taste? The smell? The texture? Our Plant-based Mac and Cheese always delivers. Speaking of, leave the cooking to us. We'll deliver this classic dish straight to your home. No need to slave away in the kitchen!
Are You Digging These Winter Dinner Ideas?
Well, we can't blame you! All these chef-prepared, plant-based meals deserve a gold star… or, dare we say, a Michelin star? Pick up a meal or two and decide for yourself! 
At XMeals, we make our food with ethically-sourced, natural ingredients. These meals have been developed with a team of executive chefs, nutritionists and trainers. It's all the love and care that makes all the difference!