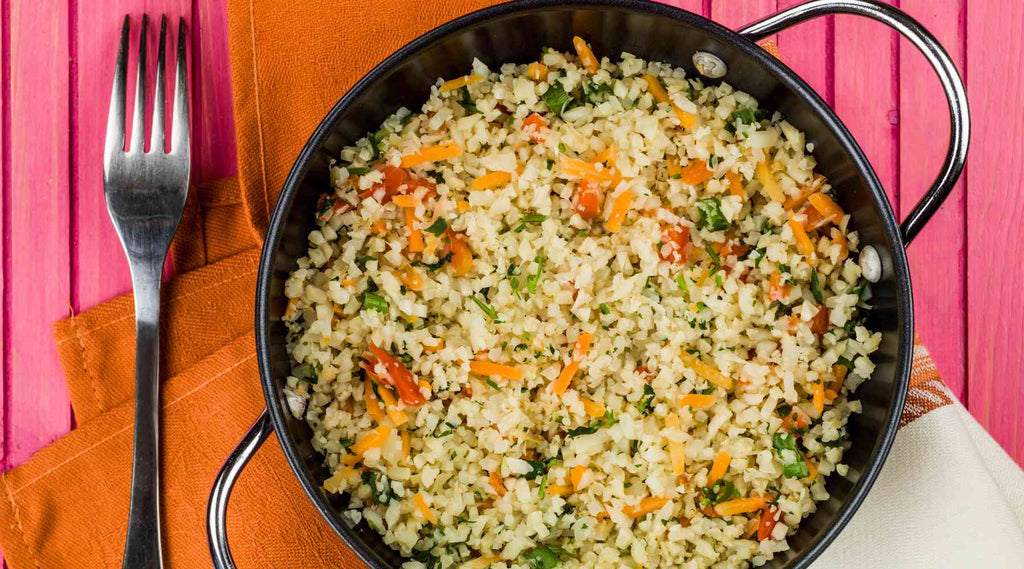 Cauliflower! Not a lot are fans, but we've made it so that everyone will love them! This delish veg is naturally high in B vitamins and fibre, so it's worth enjoying it. When cooked, cauliflower has a somewhat creamy texture. Roasted, they get a little crunch! 
With their ability to gain so much flavour and different textures, we're actually astounded as to why people don't eat cauliflower more often! It's a nice change of pace from your usual veg, such as broccoli!
We think we've got the best cauliflower recipes down pat. That's why we want to share them with you! A lot of the recipes with cauliflower we have are geared towards lunch and dinner. Feast your eyes and your tastebuds on these!
Cauliflower Tikka Masala
A delicious cauliflower rice recipe, our Cauliflower Tikka Masala has the perfect blend of textures and flavours. It comes with Basmati rice, roasted cauliflower, and fried tofu. You also get seasonal mixed vegetables, chana masala, green onions, cilantro, and a tikka masala sauce to round it all up. As you can expect, this dish is completely vegan. It's also good if you have a gluten or soy allergy.
Pair this super good meal with a superfood bar. This Busta Peanut Mid-day Square is a nutty delight that goes well with this savoury classic.
Tandoori Cauliflower Bowl
As you can probably tell, we love Indian-inspired meals. Here, we've got a beautifully-spiced tandoori cauliflower recipe with Chana masala and a serving of Basmati rice. As a final touch, a delicious coconut tzatziki sauce made with coconut milk, cucumbers, and lemon juice is added to complete this dish. Although savoury, we've added a mango chutney to give it a little balance! Grab a spoon and this tasty Tandoori Cauliflower Bowl.
With a hearty meal like this, we bet you're preparing for a big day ahead. Help yourself to our 
Peanut Butter Energy Bites to get a boost on the go.
Buffalo Cauliflower Bowl
Big bold flavours are brought to you by our Buffalo Cauliflower Bowl! You get a generous helping of spiced cauliflower that's roasted to perfection. It's even tossed in a zesty hot sauce. That's not all, you also get a tahini ranch dressing on the side as well as some quinoa, chickpeas, and avocado slices. Gluten-free, dairy-free, and nut-free, this is a tasty meal that many can enjoy!
Cool down this hot meal with a Coconut Chia Pudding! This sweet treat is one of our most popular picks.
Buffalo Cauliflower Wrap
Because so many people love our buffalo cauliflower recipe, we made it easier to eat. This Buffalo Cauliflower Wrap is a well-rounded meal that you can enjoy wherever! Inside this spinach tortilla, you can find our signature buffalo cauliflower recipe and some spinach, quinoa and avocado drizzled with a creamy garlic tahini dressing. 
A treat like this Chocolate Chip Cookie from Rebel is the perfect pair for this travel-friendly meal!
Cauliflower Manchurian Entrée
Like our tandoori cauliflower meal, this is Indian-inspired. Our Cauliflower Manchurian Entrée is a meal featuring sweet, savoury, and spicy flavours - all these flavours are deliciously expected! First up, you get fried cauliflower tossed in a nicey-spicey sauce. You even get some roasted garam masala potatoes all laid out in a bed of Basmati rice. And sprinkled on top are a few green onions and fresh cilantro? This is just *chef's kiss*
Every entrée deserves a delectable dessert! After partaking in this plant-based feast, why not get yourself a treat in the form of a Mid-day Square Fudge Yah!
Seasonal Harvest Bowl
Seasonal and super sensational, we complete our cauliflower rice recipes by delivering you this appropriately named Seasonal Harvest Bowl! It features the best of what a fall harvest can bring. Kale, brussels sprouts, sweet potatoes, and cauliflower (of course) blend together so well over a healthy serving of wild rice! You also get a miso-maple dressing to top it all off and cashew ricotta, too!
Looking to add that little extra burst of freshness to your meal? Try having this cauliflower rice recipe with a bottle of Tropical Greens Juice!
Dial Xmeals For The Best Cauliflower Recipes
We don't like to toot our own horn, but toot we must! Great for dining at home, in the office, or on the road, our cauliflower recipes will not disappoint. We exist only to provide you with nutritious and delicious dishes.
When you're ready to get your hands on any one of our cauliflower recipes, just head on over to our website and click your way to sumptuous meals! We'll deliver them to you in no time. Plus, you can even get a unique Meal Program made just for you. What're you waiting for?