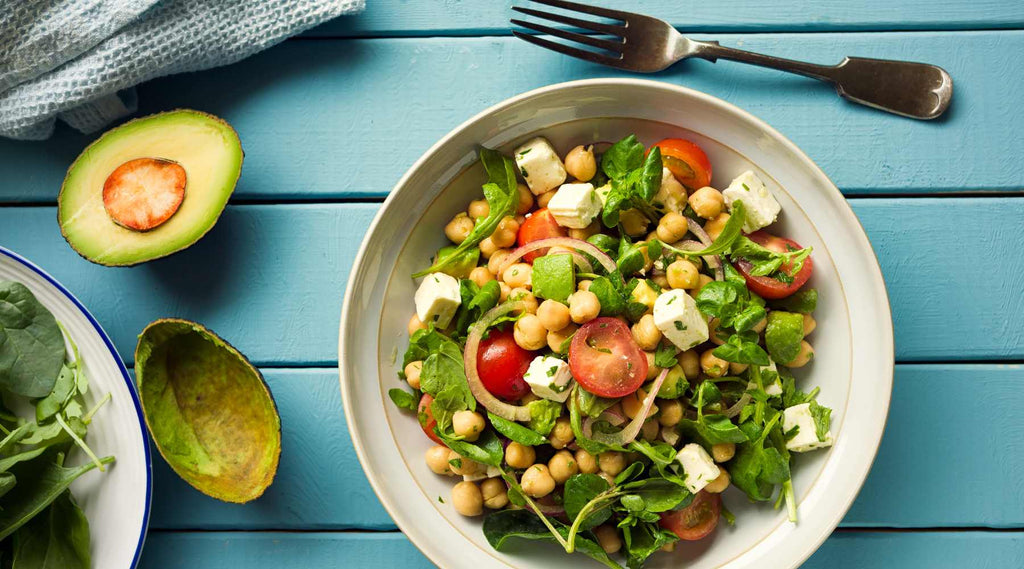 A New Year is almost upon us, and many of us will be looking to give our health a boost in January. The traditional New Year's resolutions loom over us as we enjoy the decadence of the holidays. Starting 2023 off in a healthy manner does not mean compromising on taste. We have loads of delicious meal delivery kits that will help keep you right. We also want to share some super easy meals that you can make yourself, with minimal effort.
We've brought together 3 of our favourite salad recipes with chickpeas to share with you. These easy chickpea recipes are fresh, tasty, nourishing, and super affordable. Chickpeas, also known as Garbanzo beans, have been grown and enjoyed in Middle Eastern countries for thousands of years. They have a nutty taste and a creamy, grainy texture. They're also rich in vitamins, minerals, fibre, and protein.
Read on to learn more about the amazing health benefits of chickpeas, and get ready to create some delicious chickpea salad recipes!
Health Benefits Of Chickpeas
Chickpeas are packed full of protein and fibre which may help keep your appetite under control as protein and fibre work together to promote fullness. This means they can be great food for aiding weight management, as they'll keep you nice and full for longer, reducing the need to snacks between meals. Salad recipes with chickpeas will be sure to satisfy your hunger!
Chickpeas are a great addition to a plant-based diet as they are packed full of protein. They are a nutritious alternative to animal-based sources of protein.
Chickpeas have a fairly low Glycemic Index, meaning they may potentially help regulate blood sugar levels. Studies have found that diets containing many low-GI foods promote blood sugar management. This may be a factor in preventing various health conditions.
The fibre in chickpeas may be beneficial to digestion. The fibre is mostly soluble, meaning it may help increase the number of healthy bacteria in your gut. According to studies, chickpea consumption may improve the frequency, ease, and consistency of bowel movements.
Chickpeas are a good source of choline, which plays a role in brain function. They also contain magnesium, which can aid nerve function. Additionally, they contain nutrients such as selenium and zinc, which some studies have found may help protect against anxiety and depression.
Chickpeas are an excellent source of iron, which plays a role in red blood cell production, brain development, muscle metabolism, and other areas of your health. Iron deficiency is common and can lead to weakness and fatigue. Chickpeas can be a great addition to your diet if you're at risk of iron deficiency.
Chickpeas are very inexpensive! They're an absolute bargain considering how tasty, nutritious, and filling they are. Our chickpea salad recipes will help you get the most out of this awesome ingredient, and it won't break the bank!
3 Simple Chickpea Salad Recipes
These easy chickpea recipes all take under 10 minutes to make. You can adapt them all to suit your tastes, and get experimental with additional ingredients. Chickpeas are such a fantastic salad base, you don't need much else to turn them into a deliciously nourishing meal! Read on for 3 of our top salad recipes with chickpeas…
1. Indian-Style Chickpea Salad
A bit of spice in the morning can sometimes be the perfect wake-up call! Chickpeas are a staple ingredient in Indian cooking, and it's not just hot curries you can make with them. This is basically a healthier version of chana chaat, a common Indian snack. It makes a great breakfast with a dollop of plant-based yoghurt. This Indian-style chickpea salad recipe will get you jumping out of bed in the morning, ready to seize the day! Feel free to adjust the spices to suit your taste.
Ingredients 
2 cans chickpeas
1 large onion, finely diced
2 medium tomatoes, finely chopped
1 bell pepper, finely chopped
½ cup mint leaves, finely chopped
½ cup cilantro, finely chopped
½ tsp salt
2 tsp chaat masala
1 tsp cumin powder
1 tsp chilli flakes
2 tbsp olive oil
3 tbsp lemon juice
Instructions
1. Drain and rinse the chickpeas.
2. Combine the olive oil, lemon juice, and spices in a small bowl and stir until the spices are dissolved.
3. In a larger bowl, combine the chickpeas, onion, bell pepper, tomatoes, cilantro, and mint.
4. Add the salad dressing, toss well, and serve immediately.
2. Lebanese Chickpea Salad (Balela)
Balela is a variation of Balila - a typical Lebanese breakfast dish made from warmed chickpeas mixed with spices and olive oil. This is a simple and nourishing dish that takes less than 10 minutes to prepare. Make a big batch and save some for lunch boxes, or as a side dish for a healthy dinner. Sumac is a wonderful Middle Eastern spice that is tangy with a hint of citrus to it. It has a vibrant wine-red colour and brings a bold burst of flavour to salads. We love this easy chickpea recipe!
Ingredients 
2 cans chickpeas
1 can of black beans
2 tomatoes, finely diced
½ red onion, finely diced
½ English cucumber, finely diced
3 cloves garlic, minced
2 tbsp fresh mint, finely chopped
¼ cup fresh parsley, finely chopped
1 tsp sumac
4 tbsp olive oil
Juice of 1 lemon
Salt & pepper
Instructions
1. In a salad bowl, combine the chickpeas, black beans, veggies, garlic, and fresh herbs.
2. Add the sumac, olive oil, lemon juice, salt and pepper and toss well to combine.
3. Serve with pita bread and creamy hummus!
3. Carrot And Chickpea Salad
This crunchy chickpea salad recipe is a cheery way to start the day. As well as the goodness of chickpeas, carrots will deliver a powerful dose of vitamins and nutrients such as beta carotene, antioxidants, potassium, and fibre. Cumin, lemon juice, and garlic perfectly balance out the sweetness of the crunchy carrots. This easy chickpea recipe can be made in advance so you can simply grab and go in the morning!
Ingredients 
1 can chickpeas
2 cups of shredded carrot
¼ cup white onion, finely diced
2 tbsp finely chopped fresh parsley
3 tbsp olive oil
2 tbsp fresh lemon juice
1 clove of garlic, minced
1 tsp ground cumin
Salt & pepper to taste
Instructions
1. In a small bowl, whisk together the olive oil, lemon juice, cumin, salt, garlic, and pepper until well combined.
2. In a salad bowl, combine the chickpeas, carrots, onions, and parsley.
3. Pour over the dressing, toss well, and serve.
Conclusion
We hope you've enjoyed these super easy chickpea recipes! After all the festive overindulgence and efforts, you'll be desperate for something nutritious and simple to start the new year off in the best possible way. These salad recipes with chickpeas can be enjoyed for breakfast, lunch, or as a side dish at dinner time. Make a big batch and store it in the fridge for a few days! Meal prep could not be easier, or more affordable.
If you don't have time to make your own but want to enjoy the many health benefits of chickpeas, take a look at our mouthwatering range of healthy, nutritious meals with chickpeas. For a cool salad option with a kick, grab our Buffalo Cauliflower Bowl. For an Asian-inspired treat, buy our Umami Grain Bowl, full of brown and wild rice, nutritious veggies, and crispy chickpeas. And if you need warmth in your belly, try our Tandoori Cauliflower Bowl - the perfect blend of creamy and spicy.
Our healthy meal kit delivery service will ensure you can enjoy wholesome ingredients like chickpeas in every meal, even if you don't feel like cooking. But as you now know, chickpea salad recipes are easy for even an inexperienced home cook!