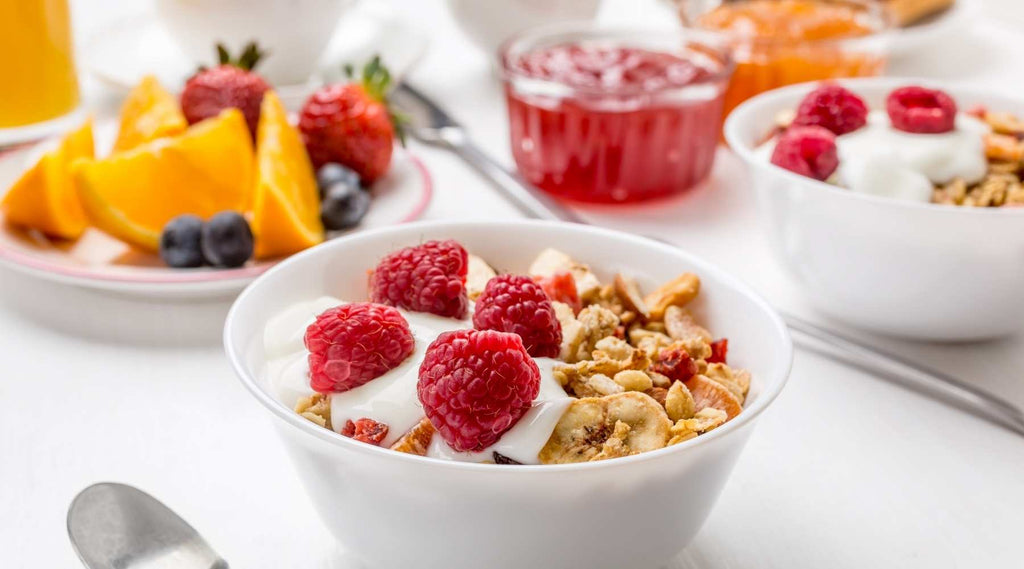 If you're struggling to find time in the mornings to prepare and eat a healthy breakfast meal, then XMeals pre-prepared healthy breakfast meals are just what you need! 
Mornings can be hectic, we know! We don't always have the time to peel and chop and blend our favourite oats and fruits to make our favourite and healthy breakfast meals. Nor do we always have time to create and eat a delicious breakfast wrap. Many just opt for a quick bowl of cereal with plant-based milk. But, is this enough to get you through till lunch? Or would healthy breakfast meals be better?
How much more nutrition and natural energy could you be consuming, and preparing your body for the day with, if you were to eat healthy breakfast meals instead of a boring bowl of cereal? Take a look below at some of our best breakfast meals and their nutritional values. You'll be surprised at how much healthier, and more convenient, your healthy breakfast meals can be!
Apple Cinnamon Overnight Oats
One of our best breakfast meals. These magical chilled overnight oats are the perfect pick-me-up in the mornings. Ready to eat straight from the bowl, they're perfect for a healthy breakfast meal on the go! 
These Apple Cinnamon Overnight Oats are made with an organic base of water and coconut cream, and lots of natural, plant-based ingredients. Gluten-free rolled oats, almond milk, yogurt, and apples, are just some of the plant-powered ingredients you'll find in this delicious breakfast meal. 
Apple Cinnamon Overnight Oats have also been infused with a vegan vanilla-flavoured protein powder for that extra boost of energy in the morning! Along with all this flavour, this 325g serving will also provide you with 11.89g of fibre and 18.2g of protein, 354 mg of calcium, 4mg of iron, and 480mg of potassium. A substantial vegan breakfast treat to kickstart your day!
Tofu Rancheros Breakfast Bowl
If you like your breakfast a little bit spicy, then the Tofu Rancheros Breakfast Bowl is definitely for you! Healthy breakfast meals on the go!
Made with spicy scrambled tofu, and a crispy Modern Meat blend that's made from pea protein, mushrooms, eggplant, beets, potato starch, grapeseed oil, nutritional yeast, and natural flavourings such as umami, garlic, and onion powder. And it doesn't stop there! In this healthy breakfast meal you'll also find all of the goodness and flavour of black beans, avocado, sweet potato, lime, and corn. All this plant-based goodness inside one warming healthy breakfast meal.
It even has an enchilada sauce included and a Pico de Gallo made from fresh cut, raw, natural ingredients. This 325g serving is one of the best breakfast meals for health-conscious breakfast lovers, as it contains 10.2g of fibre, 14.5g of protein, 83 mg of calcium, 4mg of iron, and 839mg of protein. 
Mango Coconut Bliss Oatmeal
This dairy-free Mango and Coconut Oatmeal is full of tropical tastes to start your day off right! The base of this delicious recipe is made from a gluten-free blend of banana, oats, water, and salt. The other natural and delightful ingredients include mango, coconut, mixed raisins, and turmeric. 
Mango Coconut Bliss Oatmeal is one of the ultimate healthy breakfast meals, and also includes a separate pot of plant-based organic soy milk, made from whole organic soybeans, filtered water, and natural flavourings. Simply pour the organic soy milk over your oats, and microwave on high for 2 minutes and 30 seconds!
This fresh, organic breakfast meal will fill you up and keep you going until lunch or your mid-morning snack. It's also full of vitamins and minerals that will give you that extra hit of energy you need! Mango Coconut Bliss Oatmeal contains 7.9g of fibre, 7.8g of protein, 37 mg of calcium, 4mg of iron, and 601g of potassium. Each 400g serving also only contains 304 calories!
Modern Meat Breakfast Wrap
Modern Meat plant-based sausage, spicy scrambled tofu, sweet potatoes, roasted corn, black beans, red peppers, and chipotle sauce. All wrapped up in a tasty whole wheat tortilla, what's not to like? 
Our partners at Modern Meat have created a meat substitute with ingredients that aren't just plant-based, they're as nutrient-rich as they can be too! Modern Meat's plant-based sausage is made using simple and natural ingredients, like pea protein, mushrooms, and eggplant. All flavoured with natural plant-powered flavourings, such as umami powder and smoked paprika. 
The Modern Meat Breakfast Wrap doesn't even require heating! Simply open the packet and eat, great if you're having breakfast on the go. This nut-free wrap contains 5.6g of fibre and 21.6g of protein per 275g serving, and will provide you with 55 mg of calcium, 4mg of iron, and 727 mg of potassium! 
Mixed Berry Overnight Oats
Delicious, organic, and only fresh ingredients can be found in this plant-powered bowl of overnight oats! Made with oats, almond milk, cinnamon, and some gorgeous mixed berries, including strawberries, raspberries, blackberries, and blueberries! 
Mixed Berry Overnight Oats are also blended with chia seeds, a vanilla soy yogurt, and has also been fortified with vegan-friendly protein powder, so you can be sure you'll be filled up with energy for as long as you need! 
Mixed berry overnight oats do not need to be heated, just open and eat wherever you are. This is a great example of a pre-prepared, healthy breakfast meal that is as convenient as it is nutritious. Each 325g serving contains 12.5g of fibre and 18.5g of protein, and will provide you with 360 mg of calcium, 4mg of iron, and 500mg of potassium. All in one ready-to-eat, healthy breakfast meal! 
Conclusion On Breakfast Meals
So, now you know a bit more about our best breakfast meals, are you ready to try some?! Let's round up the benefits of these tasty, pre-prepared breakfast meals!
All of our healthy breakfast meals are pre-prepared with natural, plant-based, and organic ingredients. 
Our healthy breakfast meals will save you money, mess, and time too, whilst still ensuring you're eating healthy breakfast meals every day! No chopping, peeling, mixing, or blending in the mornings, just open and heat or open and eat! It's that simple. 
Delivered directly to your door so you don't have to worry about finding the right ingredients for the breakfast you want. Convenient, hassle-free, and wonderfully healthy breakfast meals. What more could you want? 
Head over to XMeals now to order these healthy breakfast meals online. While you're there, you can check out our pre-prepared lunches, dinners, and even midday snacks, all of which are as wonderfully tasty and nutritious as our mouth-watering healthy breakfast meals!