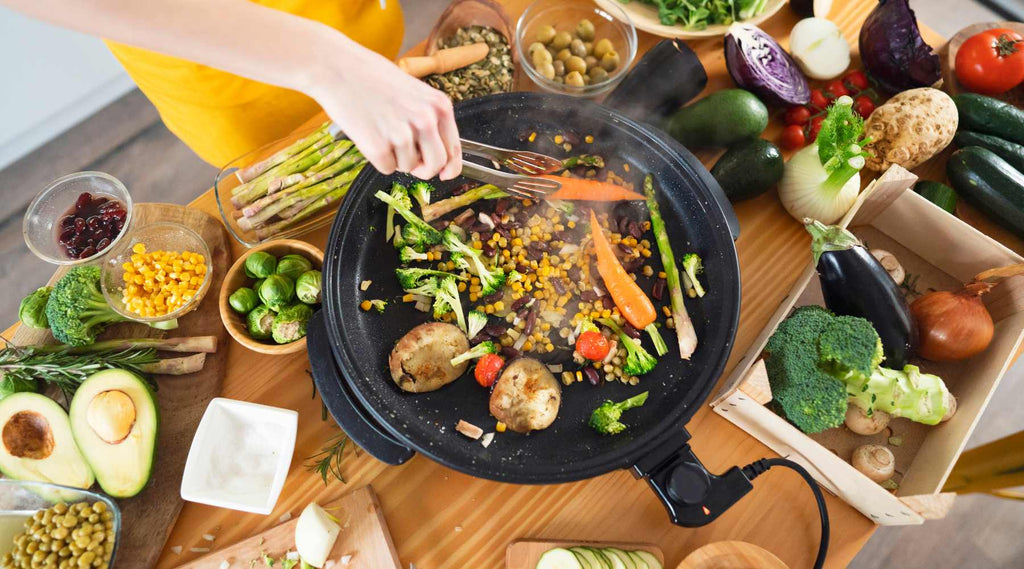 They say protein is often missing from a vegan's diet, and we're here to put that to rest! Plant-based meals can be chock full of protein. As well as really tasty, too. It all depends on how you prepare them or where you get your meals.
At XMeals, we have a huge selection of high-protein meals. They are 100% plant-based and made with ethically-sourced, natural ingredients. The best part? You can have them delivered straight to your doorstep!
Just in case you're wondering, an average person needs 0.8 grams of protein per kilogram of body weight. Say you weigh 75 kgs - you'll be needing 60 grams of protein per day. If you plan your meals correctly, you can eat the needed amount of protein in your three meals a day!
If you're itching to know what tasty, protein-rich meals we have in store for you, keep on reading! We'll get to 7 delish dishes that you can eat for breakfast, lunch, and dinner!
High Protein Vegan Meals Worth Checking Out
1. Mixed Berry Protein Overnight Oats
Weighing in at 18.5g of protein, this delicious mixed berry blend of oats is a great way to start any day!
It's a gluten-free and dairy-free breakfast that gets that extra oomph from rolled oats, vanilla soy yoghurt, vegan protein powder, and chia seeds. The berry blend consists of strawberries, raspberries, blackberries, and blueberries. 
Fresh, filling, and fantastic, get to know more about the Mixed Berry Protein Overnight Oats here. For an alternative overnight oat selection, try the Apple Cinnamon Overnight Oats! It's got almost the same amount of protein and the same amount of deliciousness.
2. Umami Grain Bowl
Grainy, tasty, and totally lunch-able, the Umami Grain Bowl is another high-protein vegan food that'll get you going. It provides you with 22.1g of protein and crunch with chickpeas.
The Umami Grain Bowl is filled with healthy ingredients like brown and wild rice, kale, portobello mushroom bacon, and seasonal veggies. It even comes with a creamy cashew ricotta.
Aside from being dairy-free and gluten-free, this is also a nut-free meal. It also comes with a little bit of fibre and potassium. 
3. Buffalo Cauliflower Wrap
Get 13.3g of protein on the go with the delectable Buffalo Cauliflower Wrap! At just 496 calories, this vegan protein meal offers cauliflower, spinach, quinoa, and avocado all tucked in one spinach tortilla!
The cauliflower takes centre stage here. They are roasted to perfection and then tossed in a buffalo hot sauce. After being mixed in with the other ingredients, they get drizzled in a garlic tahini dressing.
Delicious hot, tasty cold - serve the Buffalo Cauliflower Wrap up any way you like it. It's also a nut-free recipe!
4. Falafel Salad
A salad may not seem like much, but think again! The Falafel Salad brings you a hefty 28g of protein a serving as well as a little potassium and fibre.
A favourite high-protein vegan meal, the Falafel Salad contains quinoa, chickpea falafels, lettuce, cucumber, parsley, tomatoes, and red onions. It even comes with a Tahini Dressing as well as beet hummus!
If you really want to up the ante, enjoy your Falafel Salad with a Seed Nut Superfood Bar for the ultimate protein-packed pairing!
5. Tofu Bibimbap Entree Bowl
Beam me up because this bibimbap is out of this world! This Tofu Bibimbap Entree Bowl is a high-protein vegan meal indeed. You get 17.9g of protein and 74.9g of carbs for only 521 calories!
The Tofu Bibimbap Entree Bowl contains fried tofu (of course!), roasted mushrooms, wild rice, brown rice, kale, and cucumber - making this a balanced meal with complementary textures.
No nuts? No worries! This nut-free recipe features Korean-inspired flavours. That's achieved with the addition of sweet and sour gochujang sauce, Korean soy sauce, and ginger.
6. Roasted Squash & Chickpea Curry
This Roasted Squash & Chickpea Curry recipe offers a flurry of healthy ingredients. Get 14g of protein with every portion. 
What healthy ingredients is this high-protein vegan meal packing? How about chickpea green curry, roasted mushrooms, butternut squash, and black rice? The latter is actually known as 'forbidden rice', known as the most nutritious rice variety!
The Roasted Squash & Chickpea Curry meal is totally plant-based and totally free from gluten and dairy. 
7. Plant-based Mac and Cheese
This Plant-based Mac and Cheese provides you with a mac-nificent portion of protein! Get 24.9g of plant protein and 13.8g of fibre per serving.
You bet this dish is as hearty and satisfying as the other mac and cheeses out there, but with healthier ingredients! Butternut squash, cashews, and olive oil are just a few of the ingredients making up the super creamy vegan cheese. And yes, the vegan cheese means that this is totally free from any dairy!
Your new favourite high-protein vegan meal, the Plant-based Mac and Cheese, is waiting for you!
À La Carte? More Like Add to Cart!
All these high-protein vegan meals are available at XMeals! Get them à la carte or prepare a meal program for yourself. Ordering's easy and can all be done with a few clicks. Try it out and you'll have your protein-packed and plant-based meals in no time!