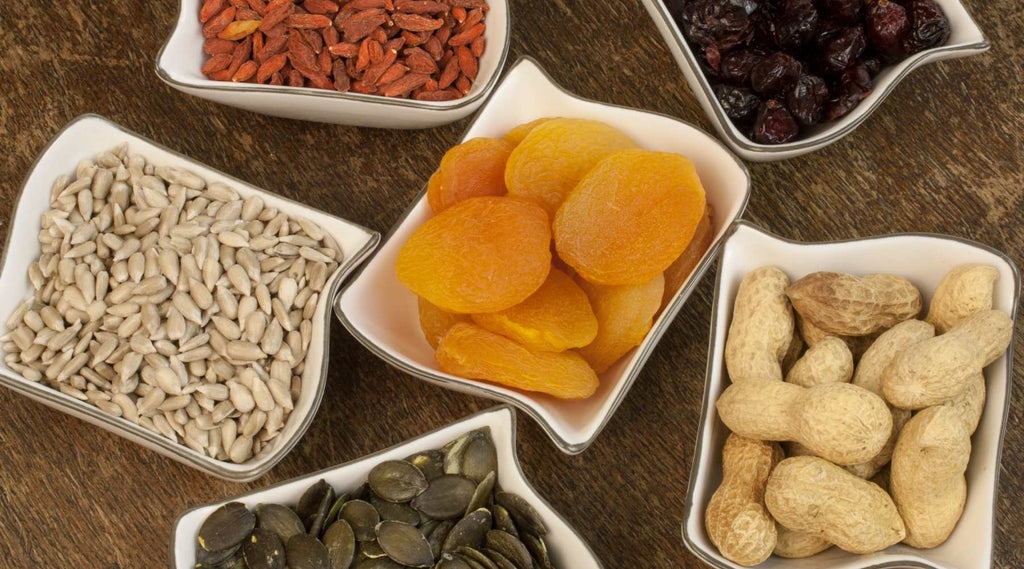 There are so many snacks out there, and the number of plant-based snacks is multiplying. With so many choices, it is very easy to be overwhelmed. And when you're being pulled in a hundred different directions because of work, making sure you've got something quick, healthy and delicious can be extremely beneficial!
That's why we've created a list of some of our favourite plant-based snacks that are perfect to take to work. Here you'll find both sweet and savoury options as well as a wide variety to cater to any palate. You are sure to find something that tickles your fancy in this array of delectable vegan snacks. So read on!
Best Plant-Based Snacks For Work
1. Mid-Day Chocolate Squares
Give yourself a superfood boost with these delectable fudge squares.
When you get a hankering in the middle of the day, this is definitely what you want to be reaching for. Made with a combo of chocolate, dates and hemp protein, you are getting a whole lot of bang for your buck. Whether you prefer something fudge-y, something crunchy, or with a peanut butter twist, you'll find a flavour that hits the spot. 
Just a few ingredients providing delicious flavour and nutrients, you really can't go wrong with these stunning fudge squares.
2. Mouth-Watering Vegan Cookies
If a baked good is more your jam, then we've got you covered with our Rebel mouth-watering plant-based cookies!
These gluten-free masterpieces are super portable and packed full of flavour. You get your choice of three amazing types: Chocolate Chip, Peanut Butter and Cranberry Oat. With an oat base and naturally sweetened with coconut sugar, these vegan cookies will give you just the boost you need to get you through the day. 
You will never be disappointed with these incredible cookies.
3, Fruity, Overnight Oats
Classic, nutrient-rich and wonderfully filling, you really can't go wrong with overnight oats. 
A scrumptious blend of oats, almond milk and cinnamon, these overnight oats are an absolute must-have. It doesn't matter whether you're more of an Apple Cinnamon or Mixed Berry person, you will find satisfaction with one of these babies. Perfect for on-the-go and teaming with goodness, these are snacks you will always want to have at hand. No heating required!
4. Coconut Chia Pudding
What could be a better snack than the textural dream that is a Chia Pudding with Coconut Milk?
With delightful crunchy granola and a tart yet sweet berry compote, you will want to dig into this right away. Packed with protein and fibre, this little goody is a winner. With a little sweetness provided by the berries and some agave syrup, this vegan and gluten-free option is sure to make it to the top of the list of snacks. Pop it in your bag, and you are absolutely golden.
No nasties, no prep, just a lovely healthy snack that is sure to hit the spot.
5. Nutty Energy Bites
Go nuts for these plant-powered, energizing and delicious Rebel bites.
Gluten-free and full of vegan protein powder, these are the perfect pick-me-up for a tediously long day. Chewy plump rolled oats paired with your favourite nut butter, be it Cashew, Peanut or Almond, you will feel boosted and satisfied after a few of these. Nutritious, flavourful and easily portable, you'll never want to leave the house without them. 
6. Superfood-Packed Nut Bars
Delectable, nutty and gluten-free these Rebel Bars will make your workday feel like a breeze!
Packed with all sorts of good stuff like protein, fibre and iron, these bars are sure to give you a super boost. Indulge in a little Peanut Butter and Chocolate or go full steam ahead with Seed Nut Superfood, both will give you just the boost you need. Stick one of these in your bags or briefcases and you will never go hungry. 
No matter what, you'll have a snack that will make the rest of your workday easier.
7. Healthy, Low-fat Popcorn
Who doesn't love a packet of tasty and crunchy popcorn?
Instead of reaching for that unhealthy packet of crisps, you can go for an extremely low-calorie snack that is packed full of flavour. Made with just three simple ingredients, this popped-to-perfection snack will never disappoint. No add-ons, no nasties, just a delectable, crunchy snack that will hit the spot every single time.
If you are a fan of the movie theatre classic then the Skinny Pop Popcorn could be a fantastic plant-based snack option. Keep things light and fun at the office by chowing down on this satisfying, non-GMO snack. 
8. Oat-powered Energy Bars
Let's sweeten the deal by presenting you with Clif's energy bars made with organic rolled oats. 
If you are more of a chocoholic then these bars are an excellent option. Made with all-natural, plant-based ingredients, these energy bars take sweet snacking to a whole other level. Clif Energy Bars each have 10g of protein and will keep you energized if you are facing a long day. Doesn't matter if you are more of a brownie person or just love chocolate chips, you are sure to find vegan chocolate satisfaction with these energy bars. 
Pop one of these bars in your bag or briefcase and you'll always have a satisfying, guilt-free snack within reach.
9. Mary's Gone Crackers
Are crackers your jam? Then you have got to try these fun, gluten-free options.
Perfect for the workplace, these crackers are super easy to both carry and eat. Chock full of plant-based protein, you get a delectable, organic snack option that also delivers on flavour. Available in three incredible versions, Super Seed Everything Crackers, Super Seed Basil + Garlic Crackers or Super Seed Seaweed & Black Sesame Crackers, you are sure to find one that suits your tastes. Wonderfully light and crispy, this is just the snack you need between meetings.
Once you start getting peckish, having these crackers on hand will be a real godsend. 
Let's wrap things up
No matter your tastes or preferences, you are sure to find something you like here. This comprehensive list of plant-based snacks is sure to have something that will satisfy your cravings and keep you going till the end of your work day.