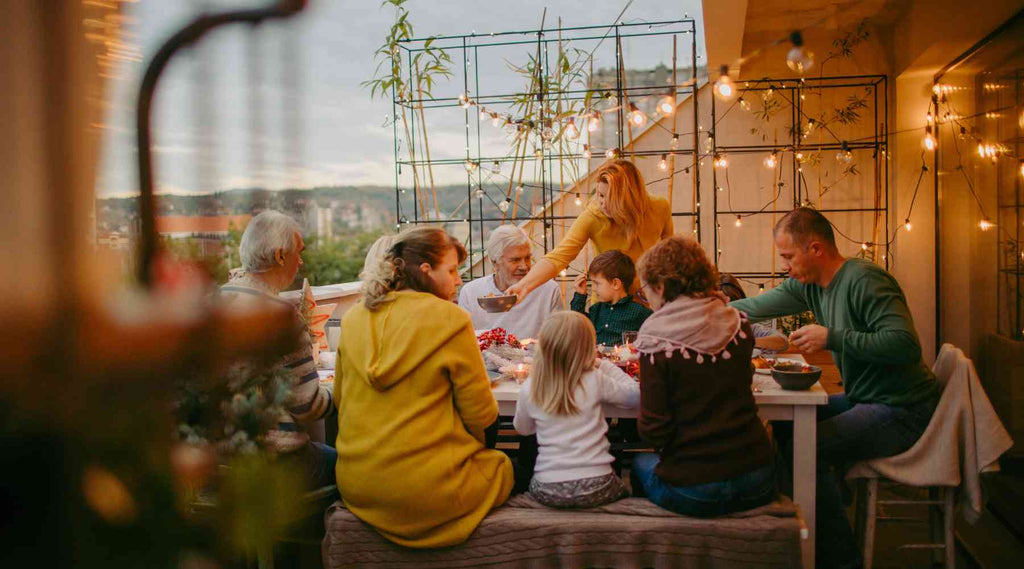 Just a few years ago, a vegan Thanksgiving was unheard of. Now, vegan meals and sides are becoming integral parts of the holiday feast!
Here, we're sharing some of our tried and true vegan thanksgiving meal ideas. If you're ever invited to join your friends or family's dinner, you'll know exactly what to bring. They might find these dishes so good that they'll even ask for the recipe.
Speaking of vegan thanksgiving recipes, let's get into them!
Plan Your Vegan Thanksgiving Dinners With These Recipes
Mushroom Gravy
What's Thanksgiving without good gravy? This savoury gravy goes well with a lot of Thanksgiving staples. So good, you'll want to dip your bread into it!
Serves: 8 l Prep Time: 10 minutes l Cook Time: 20 minutes
Ingredients
3 tbsp vegan butter
1 finely diced small white onion
1 pound of thinly sliced mushrooms
2 crushed garlic cloves
3 tbsp all-purpose flour
½ tbsp rosemary or thyme
¼ cup white wine
3 cups of veggie broth or stock 
Salt and pepper for seasoning
Directions
Fry the onion and the garlic with the butter on a large pan set to medium heat for 3 minutes
Add mushrooms, sprinkle in rosemary, and saute until cooked
Add in flour and let that incorporate for a minute
Deglaze the pan using the white wine and stock
Allow the gravy to simmer and leave it until it reaches the desired consistency, adding in salt and pepper to taste
A generous harvest of mushrooms can also inspire you to enjoy a Mushroom Risotto Entree!
Harvest Salad
Thanksgiving reminds us of a bountiful harvest - like this salad! You'll get fall flavours that all work well together to start your meal off the right way!
Serves: 4 l Prep Time: 20 minutes l Cook Time: 45 minutes
Ingredients
1/2 bunch of Italian parsley 
1 large bunch of green kale
1 cup of brown rice
2 tsp of Italian seasoning
3 tbsp of dried black currant or cranberries
¼ cup of extra virgin olive oil
Optional garnish of sliced almonds
Salt 
Directions
Cook your rice and de-stem your parsley
Loosely chop the parsley into medium-fine pieces and set aside in a large bowl
Tightly roll up de-veined kale leaves and chop kale into quarter-inch pieces, aiming for evenly shredded pieces. Add the kale to the large bowl with the parsley
Rehydrate your dried black currants using hot water in a small bowl. Do not leave the currants in the water for too long because they will get too soggy
Add your black currants to the parsley and kale
In a small bowl, combine well the olive oil, Italian seasoning, and salt
Fluff your cooked rice and add it to the large bowl with the other ingredients and make sure all ingredients are fully incorporated.
Add the olive oil dressing and mix that in well
Garnish with the optional sliced almonds
Couscous Salad with Avocado Almond Crust
An earthy, fresh salad like this can set the tone for your vegan Thanksgiving dinner! This is a different salad with taste and texture to boot.
Serves: 2 l Prep Time: 15 minutes l Cook Time: 15 minutes
Ingredients
120g couscous
60g arugula
180 g cherry tomatoes 
1 avocado
1 tbsp crushed almonds
3 tbsp white wine vinegar
6 tbsp vegetable broth
1 tbsp maple syrup
1 tsp avocado oil
1 tbsp olive oil
Salt and pepper
Directions
Cook your Couscous according to package instructions
Clean the arugula and cut in the middle
Cut the washed tomatoes into quarters
Season the surfaces of your halved avocados with salt and pepper
Place some almonds on a plate and press your avocado halves down on it, flesh side down
Fry the same avocado halves on a heated pan with the avocado oil for around 5 minutes
Mix the vinegar, vegetable broth, maple syrup, and olive oil together, adding salt and pepper to taste
Place the couscous in a bowl and add the arugula and the tomatoes
Pour the dressing over it and mix well
Serve the almond-avocado halves together with the couscous salad!
If avocados are in season, a dish like this Buffalo Cauliflower Bowl will always be a good idea.
Lentil Salad
When going over vegan Thanksgiving meal ideas, consider this super easy recipe!
Serves: 2 l Prep Time: 5 minutes l Cook Time: 10 to 15 minutes
Ingredients
1 14-ounce can of rinsed and drained lentils
¼ cup chopped red onion
¼ cup chopped red bell pepper
¼ cup chopped green bell pepper
¼ cup chopped carrots
¼ cup chopped cucumber
The juice of 2 limes or lemons
2 tbsp extra virgin olive oil
½ tsp garlic powder
1 tsp sea salt
Black pepper to taste
Directions
Mix all the ingredients in a large bowl. Serve immediately and enjoy!
Accidentally picked up too many lentils? Make yourself something tasty like this Macro Bowl Salad!
Roasted Carrot Ginger Soup
Savoury soup with a tiny kick of ginger, you can make this starter with ingredients you may already have while planning your vegan Thanksgiving dinner!
Serves: 5 l Prep Time: 10 minutes l Cook Time: 35 minutes
Ingredients
4 chopped carrots
2 chopped sweet potatoes
2 small, finely chopped onions
4 cloves of finely chopped garlic
2 inches of finely chopped, fresh ginger
4 tbsp smooth peanut butter
1 tbsp extra virgin olive oil
1.5 litres veggie stock
1 tablespoon of soy sauce
Salt and black pepper to taste
5 tablespoons of sunflower seeds
1 teaspoon of chilli powder (optional)
Directions
Add chopped sweet potatoes and carrots into a pan
Pour hot vegetable stock over them and bring it to a boil
Simmer veggie stock on low heat for around 8 minutes or until the sweet potatoes and carrots start to soften. You're aiming to soften them, not cook them.
Fry the onions in a pan using the olive oil
Once onions start to caramelise and turn light brown, add the garlic and ginger
Once the garlic starts to brown, take it off the heat
Add the onion, garlic and ginger to the pot and add in the peanut butter
Bring this mixture to a boil for 2 minutes or until the vegetables become soft
Cool the soup for 15 minutes until the pan is cool enough to touch
Using a hand-held blender, blend the soup until it becomes consistently smooth
Sprinkle optional chilli powder over the soup and stir it in
Toast your sunflower seeds on a pan with some olive oil
Once the seeds turn brown, drizzle some soy sauce over them and continue toasting until all the liquid has evaporated and coated the seeds
Put the soup back on the heat until it is piping hot
Sprinkle some toasted seeds on top and serve
Roasted Butternut Squash Soup
Rustic and delicious, this iconic soup is definitely a must for Thanksgiving! It's one recipe that we're truly crazy about.
Serves: 6 l Prep Time: 15 minutes l Cook Time: 40 minutes
Ingredients
1 whole, peeled and cubed butternut squash
3 roughly chopped red peppers
1 roughly chopped, medium-sized onion
5 garlic cloves (peeled and left whole or slightly crushed)
2 tsp of olive oil
2 tsp of maple syrup
¼ tsp sea salt
¼ tsp black pepper
400ml vegetable stock
1 tin of coconut milk
¼ tsp ground cinnamon
1 tsp grated fresh ginger
1 pinch of ground nutmeg (optional)
Directions
Preheat the oven to 200℃ and line a large baking tray with baking parchment
Add your butternut squash, peppers, onions, and garlic to the tray. Drizzle oil, maple syrup, sea salt, and black pepper over them and give them a toss so all ingredients incorporate well
Bake the veggies for around 30-35 minutes or until the butternut squash is tender, making sure they don't burn
Once your veggies are done, transfer them to a large saucepan
Add the vegetable stock, coconut milk, cinnamon, ginger, and nutmeg to the pot, making to stir thoroughly at medium heat for around 15 minutes
Using either a hand blender or a food processor, blend this soup mixture until you get a smooth consistency
Add salt and pepper to taste and serve
Already got the soup? Pair that with some rustic greens like this Falafel Salad!
Roasted Broccoli
Complete your feast with a side of veg. This roasted broccoli dish is one that's easy to love and takes almost no time to make!
Serves: 3 to 4 l Prep Time: 5 minutes l Cook Time: 20 minutes
Ingredients
2 heads of broccoli
Olive oil
Sea salt
Black pepper
1 lemon (optional)
Chilli pepper flakes (optional)
Directions
Preheat your oven to 220℃
Cut your broccoli into small, uniform pieces so they cook evenly
Wash and thoroughly dry your broccoli heads
Line a roasting pan with parchment paper and evenly distribute broccoli pieces
Drizzle them with cooking oil and season with salt and pepper
Pop the pan in the oven and let the broccoli roast for about 20 minutes or until the veg's edges are browned
Once out of the oven, add the optional ingredients
Serve and enjoy!
Have some leftover broc? Get inspiration from this Ginger Beefless Bowl!
Mac and Cheese
A tasty dish that's a true southern favourite, mac and cheese is a star even on Thanksgiving!
Serves: 1 l Prep Time: 30 minutes
Ingredients
450 g of dried pasta (elbow macaroni)
2 cups peeled and chopped potatoes
1 cup peeled and chopped carrots
1/3 cup extra virgin olive oil
1/2 cup unsweetened plant milk of your choice
8 tbsp nutritional yeast
1 tbsp lemon juice
1 tsp salt
1/2 tsp garlic powder
1/2 tsp onion powder
Directions
Soften your potatoes and carrots by boiling or steaming them for about 20 minutes
While both are cooking, prepare pasta according to the package instructions
Drain and set aside cooked pasta
Place all ingredients on the list in a blender, apart from the pasta. Blend that until smooth - this is your vegan cheese
In a large pot, mix in cooked pasta and vegan cheese mixture. Once it's hot, serve and enjoy!
Not enough ingredients at home? Get this Plant-based Mac and Cheese instead and save yourself the time!
Peach Crisp
There's always room for dessert! For an easy and delicious one, consider making this recipe. You'll only need a few minutes of prep work to make it!
Serves: 6 l Prep Time: 15 minutes l Cook Time: 20 to 30 minutes
Ingredients
Peaches:
5 ripe or 16-ounce can peaches
1 tbsp brown sugar
1 tsp vanilla extract
Topping:
½ cup whole oats
½ cup almond or wheat flour
⅓ cup brown sugar
¼ cup crushed walnuts
1 tsp cinnamon
½ teaspoon salt
¼ cup firm coconut oil 
Directions
Preheat the oven to 200°C and grease your cobbler with coconut oil
Cut your tinned or ripe peaches into slices, remembering to remove the pits
Add slices into a bowl and mix in a tablespoon of brown sugar and a teaspoon of vanilla extract
Place the peaches into the greased cobbler
In a separate bowl, combine oats, almond flour, brown sugar, crushed almonds, cinnamon, and salt
Add in and mix the firm coconut oil into the bowl using your hands until you get a moist and crumbly texture
Layer or spread the topping evenly on top of the peaches
Bake in the oven for 20-30 minutes. You want soft peaches and a golden brown top layer
Remove from the oven and let sit for at least 5 minutes before enjoying!
Stressed about making dessert? Try out Peanut Butter Chocolate Oat Bars as an alternative. You can even serve this ala mode!
Try Out Thanksgiving Vegan Recipes Now!
Thanksgiving is all about spending time with family and friends. We understand that not everyone can make their own meals or even have time to do so.
When the days are just too packed, you can always get your food here at XMeals - home of the best and tastiest plant-based meals!