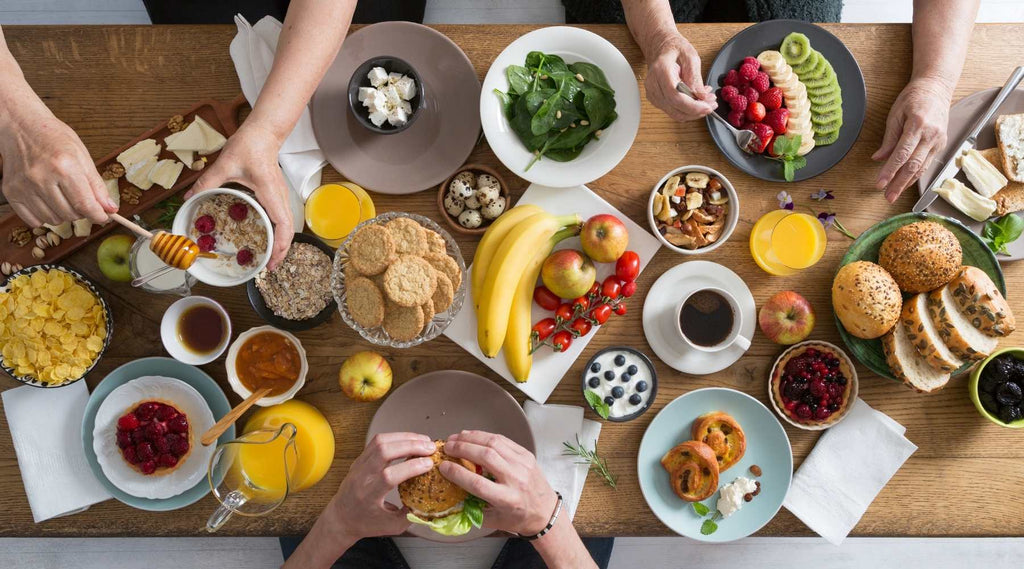 What's on the menu? How about some delicious plant-based dinners? Solo meals or family-sized parties will definitely rave about the tasty picks we've got lined up for them.
A dinner can be anything you want it to be, really. From salads to wraps, we have plenty of mouth-watering recommendations that'll satisfy any kind of appetite. Let us talk you through our picks and why we think they should be on your radar or, rather, in your belly.
Without further ado, let's get to some grub!
West Coast Crunch Salad
Let's start with a salad! A fresh salad can be a meal on its own, especially if it's a West Coast Crunch Salad. Savoury, crunchy, and deliciously umami, this salad is everything you want in one convenient container. It's nutritious and is the quintessential grab-and-go plant-based dinner.
Tired of your thousand island, ranch, or bland dressings? This salad comes with a chef's signature miso dressing. That and a colourful diversity of veg and fruit like avocado, lettuce, carrot, and pickled cabbage make this a tasty and light dinner.
Have a dairy or nut allergy? This plant-based dinner recipe is free from it. Serve this West Coast Crunch Salad chilled. No more cooking or prep is needed. Just tuck in! 
Umami Grain Bowl
Get ready for something oh-so-yummy, it'll delight your tummy! This Umami Grain Bowl is a hearty meal topped with seasonal vegetables, cashew ricotta cubes, and some portobello mushroom bacon. Pair that with some brown and wild rice and your tastebuds will definitely sing! 
The Umami Grain Bowl, of course, features the protein-rich chickpea. You'll find crispy chickpeas sprinkled on top for that extra crunch!
To enjoy this at home, take off the lid, drizzle the included dressing, and heat it in the microwave for two to three minutes. 
Mushroom Risotto Entree
Date night dinners at home don't need to be complicated. If you leave that up to XMeals, you'll get this top-notch Mushroom Risotto Entree on the menu! Prep is easy since you can simply heat this up in the microwave. We've got your meal, it's up to you to seal the deal!
Hearty meals like this Mushroom Risotto Entree are in a league of their own. Sitting on a bed of smooth and silky mushroom rice is some green kale and oven-dried Roma tomatoes. You'll also get a creamy, cashew-based butternut squash to finish it with. 
This risotto dish is creamy, but it's absolutely dairy-free. Just enjoy this restaurant-quality plant-based dinner!
Bombay Chickpea Wrap
The Bombay Chickpea Wrap is the bomb! It's packed with flavour and certainly packed with plant-based protein. 14.5 grams of chickpea protein, to be exact! Bite into this wrap and savour the delicious blend of chickpeas, tomato sauce, onions, coconut milk, and balsamic vinegar. The wrap itself is made from a soft whole-wheat tortilla!
In a rush and can't spare time to heat up your plant-based dinner? You're in luck. The Bombay Chickpea Wrap can be served chilled. No heating is required. 
Simple. Appetizing. Bite into one of the best convenient, plant-based dinner recipes you'll have in a long time!
Roasted Squash & Chickpea Curry
The Roasted Squash & Chickpea Curry always makes a splash. This curry features forbidden rice, also known as black rice. Out of all the rice varieties, black rice is said to be the most protein- and nutrient-rich whilst being the lowest in caloric and carb content. 
This plant-based dinner is our go-to if we want something hearty and healthy. This chickpea green curry comes with roasted mushrooms and butternut squash. It's seasoned with cilantro and zesty lime, too! If we were to build our own delicious dish dynasty, the Roasted Squash & Chickpea Curry would definitely be at the top.
Tandoori Cauliflower Bowl
From one Indian-inspired feast to the next! The Tandoori Cauliflower Bowl is rich with spice and flavour. 
Where do we start? The meal has a solid base made out of fluffy, steamed basmati rice. On top of that, you'll get wonderfully seasoned, roasted cauliflower, some chana masala, and mango chutney. You'll also get a coconut tzatziki sauce to drizzle the dish with! The flavours are balanced, nothing too spicy, sweet, or salty. Everything about this plant-based dinner recipe just blends perfectly. 
Plant-Based Mac and Cheese
A tried and true southern classic… with a twist! This Plant-Based Mac and Cheese will definitely be your family's newest favourite. 
XMeals' Plant-based Mac and Cheese is comforting, savoury, and creamy. It's made with a signature plant-based cheese sauce and topped with vegan cheddar cheese. That's right, this plant-based dinner recipe is completely free from dairy. Also sprinkled on top is some toasted panko to give it a crispy, crunchy texture.
This mac meal is microwavable. Just place it in the microwave, remember to give it a good stir, and your dinner is served!
Bon Appétit!
End the day right with any one of our plant-based dinner picks. If you've taken our recommendations to heart and have had every single plant-based dinner here on the list, don't you worry because XMeals is always cooking. XMeals is always in the kitchen trying to perfect different planet-based dinner recipes and that's all for you!