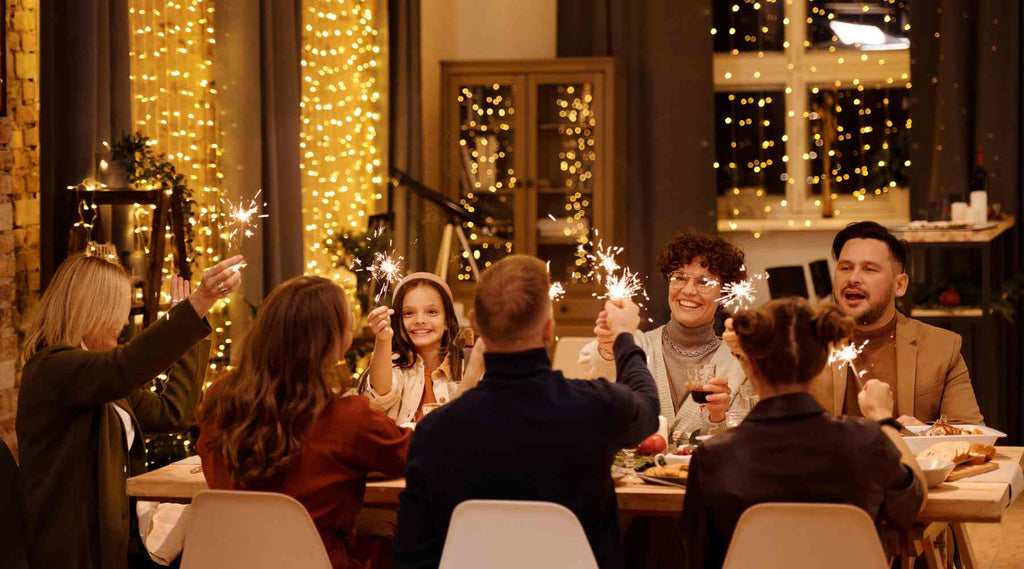 Ho, ho ho… it's almost that time of the year again! Love it or hate it, Christmas is fast approaching and many of us are starting to plan our festive feasts. Us vegans used to have a tough time at this time of year. Parents frantically trying to figure out what a plant-based Christmas dinner looked like. Work nights out with dire vegan options on the menu. Fortunately, things are much easier now!
A vegan Xmas dinner is not only delicious and nutritious, but it can also be so much kinder to your wallet! With heaps of healthy veggies, nuts, and plant-based proteins, you can rest assured you're getting plenty of nature's goodness. Vegan Christmas meals are easier than ever.
Don't feel like socializing? Friends and family away? Sometimes we all need a little "me-time", Christmas included. If you're feeling a little low on energy and decide to skip the family meal, stock up on some of our fresh and nutritious vegan meal delivery kits and get the TV on!
Read on for some top vegan Christmas dinner inspiration…
7 Divine Vegan Christmas Dinner Ideas
1. Plant-Based Pulled Pork
While you're under no obligation to produce an alternative to the Christmas dinner meat, you might want something as a centrepiece. You might not be able to craft an entire vegan turkey, but you can throw together some tasty plant-based "meat" without much effort. Make a juicy vegan pulled pork for your vegan Xmas dinner and pair it with all kinds of yummy side dishes, as we introduce below.
Serves: 2 l Time: 25 minutes
Ingredients

Directions
Drain the jackfruit and shred it by hand.
Heat a skillet with oil and cook the garlic and onion until softened.
In a small bowl, combine the spices.
Add the shredded jackfruit and spice mix into the skillet and cook for 1-2 minutes.
Add the sauce and cook for a few minutes more, stirring to combine.
Serve up and enjoy!
2. Garlic Cauliflower Mashed Potatoes
It wouldn't be a vegan Christmas dinner without potatoes! But actually, this isn't a potato recipe. We know all those potatoes can get a bit heavy. So we wanted to bring you a nourishing alternative that's every bit as delicious and comforting. This mashed cauliflower is a creamy delight and goes with just about anything. It's also great for a gluten-free vegan Christmas dinner!
Serves: 6 l Prep Time: 30 minutes
Ingredients

2 heads of cauliflower
4tbsp vegan butter
2 cloves minced garlic
½ cup unsweetened almond milk
Chopped chives or parsley
Directions
Chop the cauliflower into florets and add to a pan of boiling water. Reduce the heat and simmer until tender before draining and setting aside to cool.
In a heated skillet, saute garlic in vegan butter until soft.
Add the cauliflower, garlic butter mix, and some of the almond milk to a food processor and blitz. Adjust the consistency by adding more almond milk if needed.
Season with salt and pepper to taste and garnish with fresh parsley or chives before serving.
3. Roasted Brussels Sprouts With Maple Balsamic Glaze
Brussels sprouts get a bad rep but we're here to play our role in changing that. Brussels sprouts are a member of the cabbage family, looking like cute little mini cabbages. Why do they have a bad rep? Well, people used to boil them to death. That not only destroys all the awesome nutrients but it saps them of flavour. This recipe for roasted brussels sprouts is one of the vegan Christmas meals you can't miss out on.
Serves: 4 l Time: 40 minutes 
Ingredients

Directions
Preheat your oven to 450℉. In a bowl, toss your brussels sprouts in olive oil, salt and pepper.
Line a baking sheet with foil and arrange the brussels sprouts. Roast on the bottom shelf of the oven until soft and browned, around 20-25 minutes.
In a small pan simmer the maple syrup over medium heat for 3-4 minutes, stirring often.
Remove from the heat and add the vinegar and red pepper flakes. Return the pan to the hob and continue with medium heat, adding the vegan butter and salt. Cook the glaze until glossy and thickened.
Transfer the brussels sprouts to a large bowl, and stir in the glaze and scallions.
Top with the lemon zest and enjoy!
4. Sweet Potato Hash
Alongside roast potatoes and our creamy cauliflower mash, a sweet potato mash makes a great idea for a vegan Christmas dinner. It looks great, it has a delicate sweetness, and it's delightfully crispy. Sweet potatoes are super rich in vitamins, minerals, and fibre too. This is one of those low-effort vegan Christmas meals.
Serves: 4 l Time: 25 minutes
Ingredients

3 medium sweet potatoes, diced into bite-size pieces
½ medium white onion, diced
2 stalks of celery, diced
2 cloves of garlic, minced
Sliced scallions for garnish
Directions
Heat oil in a large skillet over medium heat. Add the potatoes, onion, and celery and stir to combine. Cover and cook for 15-20 minutes, stirring regularly.
Turn the heat up and add the garlic. Cook for a further 2-5 minutes, stirring.
Serve on a large plate with a garnish of sliced scallions.
5. Mushroom Gravy
No vegan Christmas dinner would be without gravy. A delicious gravy can be the glue that holds the entire vegan Christmas meal together. We've tried and tested several different vegan gravies and this is one of our favourites. It's thick and creamy, rich and umami. Slather it over your vegan Christmas dinner and you won't be disappointed.
Serves: 8 l Time: 30 minutes
Ingredients

1 pound of mushrooms, thinly sliced
1 white onion, diced
3 tbsp vegan butter
2 garlic cloves, minced
3 tbsp flour
¼ cup white wine
3 cups vegetable stock or broth
Directions
Heat a large frying pan and cook the onion with the vegan butter and garlic for around 3 minutes.
Add the mushrooms and rosemary/thyme and saute until browned. Stir in the flour and cook for a minute, stirring.
Add the white wine and stock, scraping any bits off the bottom of the pan and stirring them into the mix. Bring to a simmer and allow the gravy to thicken. Cook for a further 15 minutes on low heat until it reaches your desired consistency.
Season with salt and pepper and it's ready to serve! 
6. Vegan Eggnog
OK, time for some alcohol! This is a great after-dinner tipple as it's nice and sweet. No vegan Christmas dinner would be complete without a glass of creamy eggnog if you ask us. Don't worry - it obviously doesn't contain eggs or cream. It's entirely possible to make vegan eggnog just as good as the dairy stuff. Time to inject a bit of booze-y cheer into this vegan Xmas dinner!
Serves: 5 l Time: 10 minutes
Ingredients

Directions
Add all of your ingredients except the bourbon to a blender. Blend until it's smooth.
Pour the mixture into a pan and heat over low heat, whisking constantly until it simmers. It will begin to thicken up. Make sure there are no lumps!
Remove from the heat, add your bourbon, then pour into a jug and place in the fridge for a few hours until it's completely cooled.
Stir before serving, pour into glasses, and finish with a sprinkle of cinnamon!
7. Plant-Based Gingerbread Cookies
Now for something to enjoy with a steaming hot cup of coffee or tea in front of the fireplace. Who doesn't love a gingerbread man?! This is a Christmas classic and children just love them. Bake some in advance of your vegan Christmas dinner - you can never have too many! These also make great little presents for neighbours and your kid's school friends.
Serves: 6 l Time: 30 minutes
Ingredients

Directions
Preheat your oven to 350℉.
To an electric mixing bowl, add your butter and brown sugar and cream together.
Make a flax egg by mixing 1 tbsp flaxseed meal with 3 tbsp hot water
Add molasses, vanilla, and flax egg to the mixing bowl and combine with the butter and sugar.
Sift the flour into a bowl and add the spices and baking soda. Mix well.
Add the dry ingredients to a bowl with the wet ones and mix them into a batter.
Flour a surface and roll the dough into a ball. With a rolling pin, roll it out until it's around ¼ inch thick. Cut out some gingerbread men and repeat the process, rolling the excess dough back into a ball, until there's no dough left.
Lay your gingerbread men on a baking tray and bake for 10-12 minutes until golden. Leave to cool then decorate with icing and anything else you like!
To Wrap It All Up
Now we've equipped you with the knowledge you need to make all kinds of delicious vegan Christmas meals! Mix and match dishes to suit your tastes, adjust quantities as needed, and cook enough to satisfy your guests, however many there are. Some of these vegan Christmas dinner recipes can be prepared in advance, and all of them are simple to make.
There are so many vegan Xmas dinner options, it's even easy to throw together an utterly divine gluten-free vegan Christmas dinner. Some other great ideas are a classic nut loaf, some festive baked tempeh, and all kinds of wholesome vegetable dishes. Like we've said, you might be opting to skip the festivities this year and no judgment here! In that case, try some of our awesome plant-based meal delivery options and enjoy a moment of pure relaxation.
Love, peace, joy, and a delicious vegan Christmas dinner!