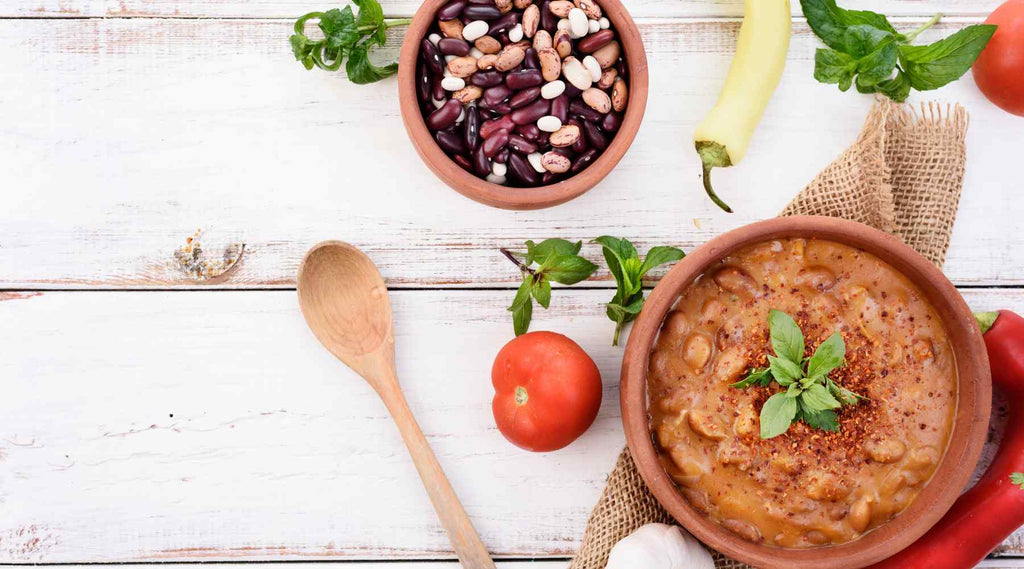 Ahhh baked beans! Friend of the student and novice home cook. Not only are baked beans easy to make but they're also packed full of nutrients, plant-based protein, and fibre. Oh - and they're delicious! Baked beans make for a comforting meal on a cold winter's day. And there's nothing quite like homemade baked beans, trust us.
If you're running on empty, check out our delicious meal delivery kit options. But if you've got a little bit more energy, read on to learn how to make the best-ever homemade baked beans. Well, there are actually 6 baked bean recipes we want to share with you so you can make up your own mind about which one is best.
Baked beans may seem like a humble and unsexy option, but these homemade baked bean recipes will change your mind. Read on to become an expert in the realm of homemade baked beans!
Health Benefits Of Baked Beans
As we've said, baked beans are crammed full of plant-based protein and fiber. They're a delicious, sustainable, nutritious, and affordable alternative to meat. Homemade baked beans mean you can skip the excess salt and sugar that many supermarket brands contain. Beans are low in fat and calories, so they're a fulfilling option if you're on a calorie-restricted diet.
Studies have found that including baked beans in your diet may help reduce cardiovascular risk and balance blood sugar levels. They're full of minerals such as iron and zinc, and a great source of B vitamins. The best-ever homemade baked bean recipes that we've selected make sure to cook the beans in a way that brings out the very best of their nutritional power.
6 Homemade Baked Bean Recipes For Beginners
Our first recipe will teach you how to make the best-ever homemade baked beans. The following five recipes will show you how to use these baked beans to make some awesome baked bean recipes that do something a bit different! It's a great idea to make a big batch of homemade baked beans, and store some in the fridge or freezer for later use. Read on and get inspired - baked beans don't have to be dull!
1. Simple Vegan Baked Beans
First things first, how do you actually make homemade baked beans? This baked bean recipe is one of those convenient recipes that takes very little time, effort, or ingredients to throw together. It's a great way to jazz up that can of beans that's been hiding at the back of the cupboard for a bit too long. Adjust the seasonings to suit your tastes - sometimes we like some extra chilli sauce or some fresh herbs.
Ingredients 
Instructions
Heat oil in a pan and fry the onion and garlic over medium heat for around 5 minutes, until soft. Add the tomato puree, paprika, thyme, brown sugar, and soy sauce, and cook for a further 2 minutes.
Add the beans and passata, and simmer for around 5 minutes, until the mixture has thickened a little.
Season with salt and pepper, and serve on a slice of toast.
2. Baked Bean Toastie
A bean toastie is revolutionary! This is a great lazy lunch dish, especially if you have a bit of a hangover. You can't go wrong with cheese, bread, and homemade baked beans. Make sure you've got some beans in the fridge and you'll be able to whip up this toastie in a few minutes. Yes, it's similar to good old beans on toast, but trust us - the extra bit of bread on top is a joy!
Ingredients 
Instructions
Heat your beans on the hob or in the microwave.
Toast and butter your bread.
Place one slice of toast on a plate and top it with just enough beans and a dash of
salt and pepper.
Place the other slice of bread on top and top it with vegan cheese shreds.
Pop the sandwich under the grill until the cheese melts and bubbles, then enjoy!
3. Baked Bean Shepherd's Pie
Shepherd's Pie is one of those classic British dishes that really warms the cockles. This is mushy, creamy goodness, and a perfectly easy dinner in winter. Shephard's pie is traditionally made with minced meat, but homemade baked beans make a great substitution. If you want it extra saucy, try pouring over some plant-based gravy!
Ingredients 
Instructions
Preheat your oven to 220℃.
Tip your baked beans into a large baking tray.
Chop your potatoes and add to a pan of water that's been brought to a boil. Cook on medium heat until soft, around 15 minutes.
Drain the cooked potatoes and tip them back into the pot. Add the plant-based butter and milk, as well as a handful of cheese shreds, and stir to combine. Mash the potatoes until creamy.
Spread the potato mash on top of the beans, and top with another handful of vegan cheese shreds.
Bake in the oven for around 15 minutes until the cheese has melted and the top is crispy. Serve with a crisp salad!
4. Baked Bean Burgers
You've probably had a bean burger before but did you know you can make them yourself with homemade baked beans? This is yet another cheap and cheerful meal that you can whip up using our best ever homemade baked beans recipe. Fry them or pop them on the grill, then add your favourite toppings!
Ingredients 
Instructions
Peel and dice the potatoes then cook for 10 minutes. Drain and mash them then leave them to cool.
Drain the baked beans from any excess sauce, then add them to the mashed potato.
Separate the mixture into burger-sized portions and roll them into balls before flattening it to resemble a burger patty.
Put your breadcrumbs on a plate and dip in each patty, to coat them on each side.
Fry the patties in some oil, for around 3 minutes on each side, until crisp.
Serve in a burger bun with lettuce, onion, pickle, and your sauces of choice!
5. Baked Bean Quesadillas
For a baked bean recipe with some Mexican flair, try these baked bean quesadillas. If you don't have any of the ingredients, feel free to substitute with other things such as roasted peppers, chunky salsa, or diced tempeh. A squeeze of fresh lime and some fresh cilantro is always a good idea too!
Ingredients 
Instructions
Lay out a tortilla and spread half of it with a layer of baked beans. Dash over some hot sauce, sprinkle over some sweetcorn and plant-based cheese, then a layer of guacamole. Repeat for each tortilla.
Fold the other half of the tortilla over the top of the fillings, then fry in an oiled skillet until golden brown on each side.
Serve with a dollop of plant-based sour cream.
6. Plant-Based Sausage And Baked Beans Pasta Bake
Now this is what we call comfort! Sausage and beans is a classic combo, and this pasta bake recipe takes it to the next level. This is a thoroughly satisfying meal when it's cold and dark outside, and you just want curl up in front of the TV. Almost any kind of pasta will do, as will any plant-based sausage. We love using vegan sausages with Italian seasoning. Homemade baked beans, Italian style!
Ingredients 
Instructions
Preheat your oven to 200℃.
Cook the pasta according to the instructions on the packet. Drain and set aside.
Chop up the sausages into 1cm slices and fry in an oiled pan for around 10 minutes, until browned all over.
Add the baked beans, ketchup, and any additional seasonings.
Add in the pasta and stir everything well to combine.
Transfer to an ovenproof dish and top with the cheese shreds. You might also want to add some breadcrumbs.
Bake for around 15-20 minutes, until the cheese is melted and the top is starting to crisp.
Serving with garlic bread!
It's Bean Amazing!
So, now you're fully equipped to make the best ever homemade baked beans. With just a few simple and inexpensive pantry staples, you can have a warming and nutritious meal that's ready within minutes. We hope the baked bean recipes that we've shared with you have proven that baked beans can be so much more than beans on toast! Make a big batch of homemade beans and you'll be ready to whip up some comforting winter meals in no time.
All of these baked bean recipes can be made with a can of baked beans, if you have some lying around or don't have time to make your own. We recommend these Organic Baked Beans by Bioitalia. And the only thing simpler than that? Well, that would be our fantastic meal delivery kits, obviously!
Time to fill yourself with beans! Let us know how you liked these baked bean recipes.