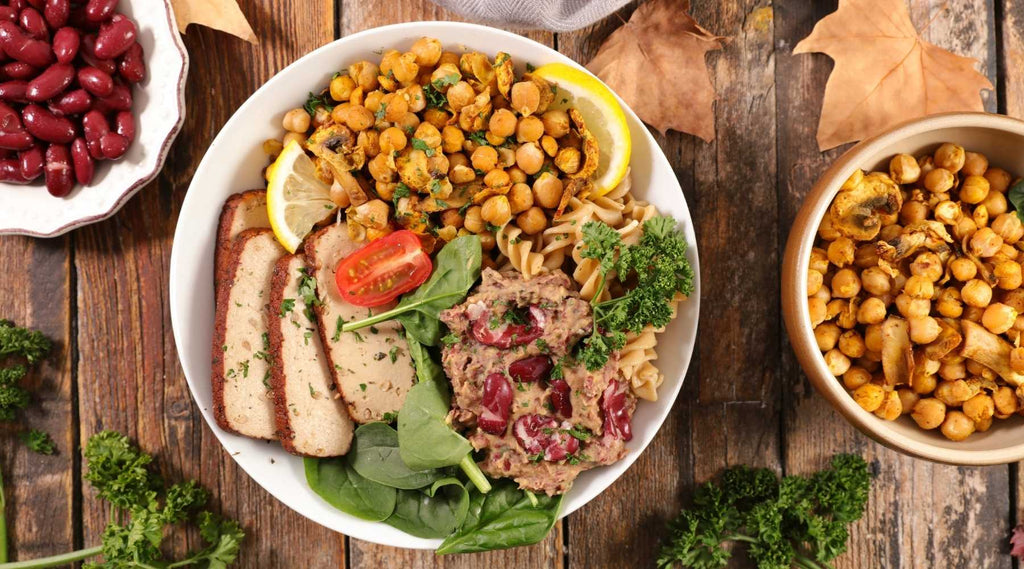 Tick tock, tick tock. You've just finished work after a long, busy day. Perhaps you've just got a half-hour window as you fly in the door with the kids after school and before you need to rush off to drop them at their dance, football, band, any other kids' activity you can think of class. Let's face it, life is busy. Sometimes it's all just a little too busy to plan a healthy and nutritious meal for the whole family. 
But there's no need to feel guilty! At XMeals, we're here to help with our plant-based meal delivery kits. Our chefs work hard in the kitchen, coming up with delicious, healthy and nutritionally-balanced vegan meals, so you don't have to! Best of all, our meal delivery kits are really convenient to make – the majority of them can be served up to your family in less than 3 minutes! 
With a wide range of the best meal delivery kits available that cover just about every cuisine imaginable, you're sure to find a dish that suits your family! And if you're looking for a little inspiration, read on for our top 7 family favourite plant-based meal kits. 
Mushroom Risotto Entree
Our Italian-inspired Mushroom Risotto Entree meal delivery kit is delicious, hearty, and packed full of familiar flavours that the whole family will love. The perfectly-balanced mushroom risotto rice is perfectly seasoned and served alongside fresh kale and tomato. The whole dish is given an extra special lift by our signature cashew-based, butternut squash sauce, which adds a touch of luxurious creaminess. All-in-all a fun little comfort dish to brighten up your midweek meal plan. 
Squash Masala Bowl
Spice up your life with one of our all-time favourite Canadian gluten-free meal kits, our Squash Masala Bowl. Delicious roasted squash and subtle spinach tofu paneer crown a wonderfully earthy beet biryani, for a colour combo that is out of this world. Super filling, with just enough spice to whet your appetite, our Squash Masala Bowl meal delivery kit makes it easy to switch up your weekday menu! 
We think kids will love our Squash Masala Bowl, but the great thing about our plant-based meal delivery kits is that each meal is served in individual portions. So, it's super easy to mix and match to suit your whole family! 
Buffalo Cauliflower Bowl
Returning to more familiar ground for gluten-free meal delivery kits in Canada, our Buffalo Cauliflower Bowl brings a different kind of heat with its tantalizing tangy sauce. Fresh cauliflower headlines this dish as it's roasted in our very special secret spice blend, then smothered in zesty hot sauce. For perfect nutritional balance, we serve our Buffalo Cauliflower Bowl with quinoa, chickpeas and avocado, all topped with a tasty tahini ranch dressing. 
Tofu Benny Bowl
Who said family mealtimes were reserved for dinner? Not us! Family time should be for every meal, including breakfast! That's why our Tofu Benny Bowl is one of our best gluten-free meal delivery kits. Our vegan "eggs" benedict is actually made from marinated tofu and topped with plant-based hollandaise sauce. The tofu is complemented with a yummy combination of spinach, potatoes, onions, and peppers for extra oomph. So start your day the right way with a healthy helping of our favourite Canadian gluten-free meal kit: the Tofu Benny Bowl. 
West Coast Crunch Salad
For a lighter plant-based family meal, try our West Coast Crunch Salad. Vibrant and colourful, you'll taste the veggie rainbow with every bite. Family favourites like avocado, lettuce and carrot, are topped with a mind-bogglingly delicious blend of savoury granola. Drizzled with our chef's signature miso dressing for a fresh, umami flavour, it's perfect for a light lunch. Best of all, you can serve our West Coast Crunch Salad chilled, straight out of the box, making it one of the most convenient and best meal delivery kits in Canada! 
Umami Grain Bowl
Our Umami Grain Bowl proves that plant-based meal kits don't have to be boring! Our Asian-inspired grain bowl goes a long way to helping you hit your five-a-day target and boosting your protein intake. Nutty brown and wild rice is mixed with the superfood of superfoods, fresh kale and then topped with portobello mushroom bacon and lots and lots of veggies. For added crunch, we sprinkle on some crispy chickpeas and then sign off with creamy cashew ricotta. This Canadian gluten-free meal kit is heaven on a plate!
Plant-Based Mac & Cheese
It's impossible to talk about family-favourite plant-based meal kits without mentioning the ultimate comfort food – vegan mac & cheese! Perfectly cooked macaroni with just a hint of bite, the way it should be, coated in a creamy vegan cheese sauce, topped with vegan cheddar cheese and dusted with toasted panko. Ooey, gooey mac & cheese has been comforting generations of Canadians for eons, and we take convenience one step further with our meal delivery kits. 
We Hope You're Hungry!
So there you have it. Our top 7 favourite family-friendly plant-based meal kits. Of course, no meal is complete without a little dessert, so why not round out your meal with one of our delicious treats, like the Rebel – Chocolate Chip Cookie. Our cookies are soft, chewy and decadent – we think you'll struggle to stop at one! 
However you choose to enjoy your XMeal, our meal delivery kits take the hassle out of planning tasty, healthy meals during a busy week. They're also the perfect way to broaden your culinary horizons and try dishes that you may not have tried before. Who knows? You may even discover your very own, brand-new family-favourite plant-based meal!