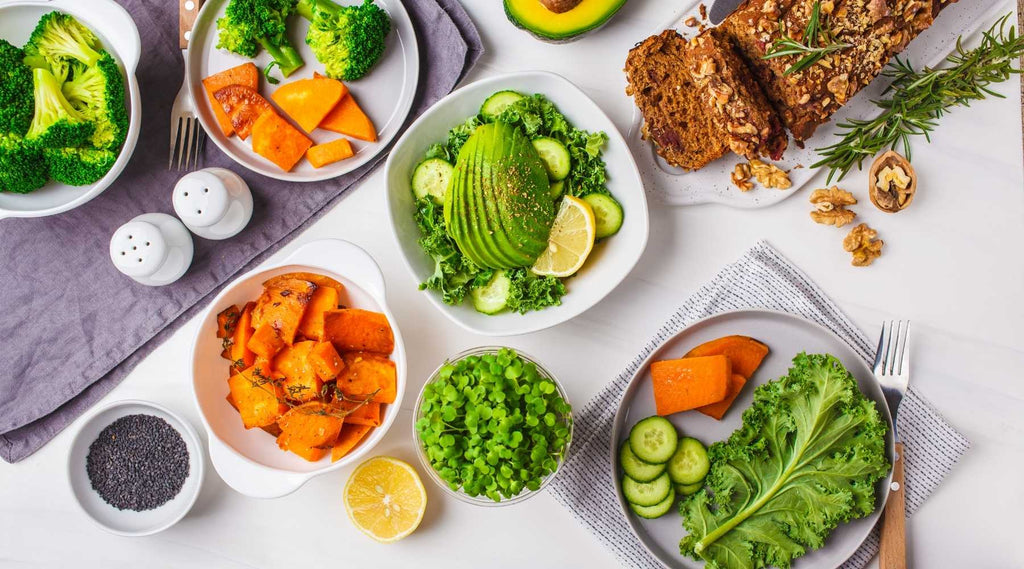 Looking for vegan energy boosting foods or planning meals to boost energy? You've come to the right place. Welcome to our run-down of some of the best energy-boosting plant-based foods. From whole grains to dark chocolate, following a diet rich in plant-based foods can be a great way to increase your energy levels and fight fatigue. 
At XMeals (our vegan prepared meal delivery service), we carefully craft balanced and nutrient-dense meals and snacks to give you the energy to thrive!
1. Whole Grains
Whole grains like brown rice, buckwheat, bulgur and millet are believed to be some of the best energy boosting foods around! Whole grains are grains that are made from the entire grain seed which includes the germ, the bran and the endosperm. 
This means they are bursting with protein, fiber and other essential nutrients. Low in calories and packed with nourishment, whole grains are a fantastic plant-based source of slow release energy that will keep you feeling fuller for longer. 
Made with brown and wild rice, try our Umami Grain Bowl for a delicious burst of energy. Carefully crafted with your wellness in mind, this meal is also packed with other energy boosting foods like cashews, chickpeas and tofu. 
2. Tofu
Low in calories and high in protein, tofu is one of those essential plant-based foods that us vegans have come to rely on. Made with soybean curds, this gluten-free, cholesterol-free plant protein is packed with iron, calcium and manganese. Studies show that these key nutrients help to boost energy, as well as supporting healthy skin and hair. 
Searching for meals to boost energy? Get our eggs benedict-inspired Tofu Benny Bowl delivered straight to your door for a super replenishing breakfast that will get you feeling ready to take on the day!
3. Chickpeas
Here at PlantX, chickpeas have to be one of our favorite plant-based foods. Tasty, versatile and oh-so-nourishing, these yummy little legumes are bursting with energy-boosting nourishment. Like many energy-boosting foods, chickpeas are a great source of fiber and protein, as well as plenty of essential vitamins and minerals. 
Our dedicated Xmeals chefs love creating delicious vegan meals to boost energy. Our Roasted Squash & Chickpea Curry and Roasted Buffalo Cauliflower Bowl are both fantastically filling vegan meals, featuring our friend - the small but mighty chickpea!
4. Fresh Fruits
Sometimes we want to enjoy energy-boosting plant-based foods that are light, convenient and sweet. That's where fresh fruits come in! Fresh fruits are full of natural sugars that can be transformed quickly into glucose - the most important source of energy. 
Bananas, apples, berries and mangos are all quick and easy energy-boosting foods that make perfect snacks to keep you going until the next meal. 
Cold-pressed juices like Beet Rejuvenation, Tropical Greens and Turmeric Sunrise are also a rejuvenating refreshment that will flood your body with energy-boosting vitamins.
5. Butternut Squash
Vibrant and versatile, butternut squash is a delicious veggie for making all kinds of meals that boost energy, and even desserts! Low in calories and high in fiber, this sweet winter squash is brimming with energy-boosting B vitamins, including folate and B6. These key nutrients are essential for energy and red blood cell formation. 
To get the most from this plant-based food, try our Squash Masala Bowl and Roasted Squash & Chickpea Curry.
6. Oatmeal
Loved by athletes as a perfect performance breakfast, oatmeal certainly deserves a place in the Energy Boosting Foods Hall of Fame! One of our favorite complex carbs, oatmeal is an amazing source of slow release energy that will keep you going all morning. It's also packed with fatigue-fighting B vitamins which help convert food into energy. 
Made with whole grain oats, banana, mango, soy milk and coconut, Mango Coconut Bliss Oatmeal is an ideal energy-boosting breakfast food. If you prefer a cold breakfast or something you can enjoy on the go, try our Apple Cinnamon Overnight Oats, packed with energy-boosting oaty goodness.
7. Avocado
Buttery, delicious and super beneficial, avocados are one of the greatest plant-based foods around (in our opinion!). Not only do they add a beautiful splash of creamy, dreamy goodness to whatever you're eating, they're also one of those amazing energy boosting foods that help us feel our best.
Avocados are packed with healthy monounsaturated fats which keep you feeling full and satisfied between meals. Eating monounsaturated fats helps to slow the breakdown of carbs, meaning energy will be released slowly and stably, without that disruptive peak and crash.
Avocados are also a fantastic source of energy-boosting vitamins and minerals such as vitamins C, E, K and B6, riboflavin, magnesium and potassium. 
Get your avocado fix with our West Coast Crunch Salad or Tofu Rancheros Breakfast Bowl, packed with energy boosting foods and pure plant power!
8. Seeds
Small yet mighty, seeds are crops at the first stage of their life. For this reason, these compact powerhouses are filled with everything required to grow a healthy plant. Luckily for us, their energy-boosting benefits can easily be unlocked when we incorporate them into our diets.
Tiny and tasty, seeds are packed with antioxidants, vitamins, minerals, protein, fiber and healthy fats. This makes plant-based foods such as chia, flax and pumpkin seeds an excellent source of energy! Easy to add to any recipe or even just slip into your pocket for a boost on-the-go, seeds are the must-have in any plant-based kitchen.
For some super seed energy, try our Rebel Seed Nut Superfood Bar or Coconut Chia Pudding. These nutrient-dense snacks are ideal for enjoying any time for a plant-powered energy burst whenever you need it.
9. Nuts
Nuts are an essential ingredient in many plant-based foods. Cashew cheese, nut butters and nut milks have become mainstays of a balanced vegan diet. And for good reason - nuts are absolutely bursting with energy-boosting nutrients. 
The reason why nuts make such great energy-boosting foods is their impressive nutrient profile. Nuts are a fantastic source of healthy unsaturated fats, plant protein, gut-friendly fiber, antioxidants and essential vitamins and minerals. 
Ideal for sensible snacking, nuts are an important ingredient in our range of carefully crafted vegan energy bites. Choose from Almond Butter Energy Bites, Coconut Cashew Energy Bites and Peanut Butter Energy Bites.
10. Dark Chocolate
Dark chocolate (vegan, of course) is one of those super delicious plant-based foods with a surprising number of health benefits. In fact, chocolate (in moderation) can be a great way to banish that afternoon slump.
Dark chocolate contains caffeine, sugar, iron and antioxidants. All of these may help to increase energy levels, boost your mood and increase alertness, without the spike and crash of coffee or high-fat sugary treats. 
For that much relied-upon 2pm nibble, choose Mid-day Squares Almond Crunch or Mid-day Square Fudge Yah. These energy boosting snacks combine the finest vegan dark chocolate with hemp protein, dates and nuts for a sustaining snack that will see you through until home time!