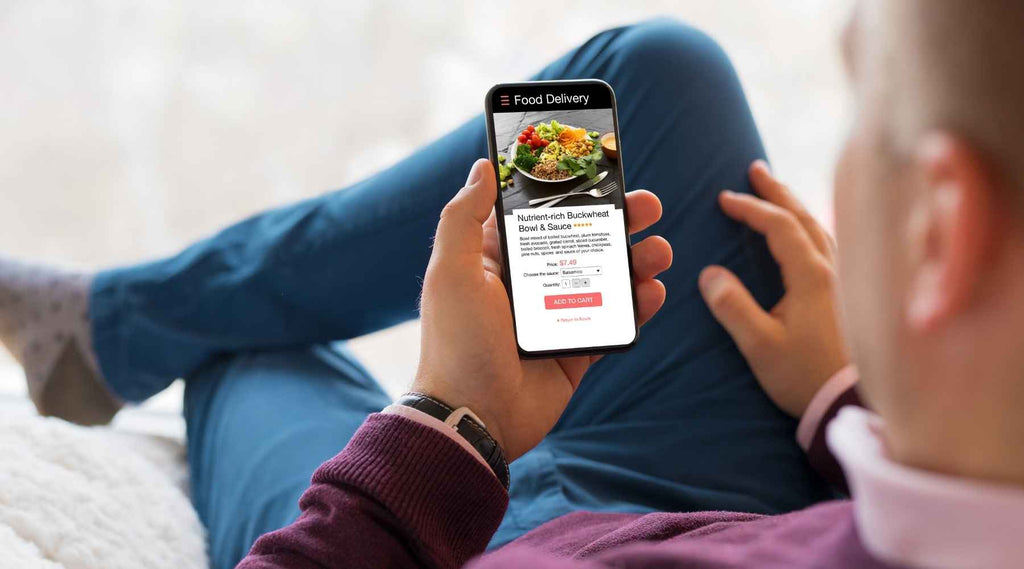 In today's fast-paced world, meal delivery services are becoming increasingly popular, and it's easy to see why. Between work or studying, commuting and household chores, who can find the time to cook nutritious and delicious homemade meals?
A meal delivery service takes out all of that stress from mid-week meals. It saves your precious time - eliminating the need for lengthy shopping trips, meal prep and simply deciding what to cook! It also gives you the opportunity to try meals outside of your usual routine, without wasting ingredients on new herbs and spices that may never be used again.
However, in a world filled with low-quality convenience food, it's all too common to read the back of an ingredient list only to be greeted with a never-ending catalogue of mysterious chemicals. An increasing number of damaging side effects caused by consuming these artificial colours or additives are being brought to light in new research every year. That's why cooking healthy, balanced meals have never been more important! 
That's where XMeals comes to save the day… Although many options are available, we are certain that XMeals goes above and beyond to deliver the best meal delivery. Not only is each meal 100% vegan, but all of our meals are chef-made, packed with nutrients and super tasty. Plus, we have a range of cuisines to ensure everyone's tastes are catered for. Want to find out more? Read on to discover why our plant-based meal delivery service is the best in Canada…
5 Reasons Why XMeals Is The Best Plant-based Meal Delivery Service.
It's 100% Vegan! 
XMeals is a completely vegan meal delivery service that brings delicious yet convenient meals to doorsteps in Canada and the US. Finding completely vegan recipes or convenience food can be tough, especially when you don't want to compromise on taste! Luckily, XMeals is the sister company of PlantX, specialists in all things vegan. 
XMeals delicious a la carte menu is made using high-quality, ethically sourced ingredients. With XMeals delivery, you can prioritize your tastebuds and the planet, selecting meals that satisfy you and leave you feeling fulfilled. 
Healthy and Balanced
Another reason why XMeals is the best meal delivery service in Canada? They make your health their priority. XMeals has assembled a team of nutritionists and trainers, including PlantX's own Medical Advisory Board member and registered dietitian, Ms. Amy Gensel. Curated with their expert advice, this menu is both tasty and nutrient-dense. 
Vegan recipes are sometimes criticized for their lack of good quality protein. However, here at XMeals, we ensure our meals are packed with plant-based protein to keep you full and satiated. XMeals delivery service uses a variety of modern meat alternatives, as well as soy proteins, pulses and high protein vegetables to add these nutrients to their meals. 
Unlike some other convenience foods, our meals and snacks are also made using 100% natural ingredients, many of which are also non-GMO certified. XMeals contain no artificial ingredients, chemicals or additives, specifically crafted to nourish you and your family with high-quality, nutritious produce. 
Sustainably Crafted
XMeals' delivery service is much more sustainable than other leading companies!
Our chefs and dietitians at XMeals Kitchens construct our menu thoughtfully, considering the environment by using products that have a low carbon footprint. The ingredients are always brought from high-quality distributors, buying locally wherever possible and choosing companies that transport their products with a reduced rate of emissions.
XMeals prioritizes ethics over making as much profit as possible. Ordering more than 10 meals? We will reward you with free delivery! This helps reduce the average mile each meal travels whilst also putting money back in your pocket. We make buying in bulk especially convenient, considering the meal containers are designed to be stackable and easy to store. 
The containers are 100% reusable, as well as microwave, dishwasher, refrigerator and freezer friendly. After you enjoy your delicious meals, use your containers again and again for leftovers or meal preps to help to reduce waste. They are also completely recyclable, so when you do dispose of your container, make sure to take it to your local recycling plant! 
Flexibility of Plans 
Here at XMeals, we LOVE flexibility. Unlike other meal delivery plans that want you to commit to a lengthy subscription, our delivery service has a minimum order of only three meals. It's the best choice for you to enjoy ultimate flexibility - perfect for those who'd simply rather just try a meal out here and there!
Merely go onto the website, select the à la carte meals you want to devour and choose how often you'd like your deliveries. Choose between mains, sides, snacks and drinks - as long as you've got a minimum of 3 (if you can resist the other temptations), you're good to go and checkout. 
If you prefer to maintain regular orders, we've got your back. We have a delicious and nutritionally balanced meal program that's flexible and tailored to your tastebuds. You can choose to receive 3 or 5 complete meals for the week with the option to add some tasty extras on the side. Each meal is created with the advice of a registered dietitian, so rest assured you are fueling your body with the best nutrients on this professionally designed meal plan! Better still, you can receive 5% off when you purchase a weekly subscription.
Our easy-to-use interface allows you to tailor your XMeals to your personal preferences, dietary requirements and weight loss or gain goals. Simply click a dish, read the flavour descriptions and view the whole ingredients list and detailed nutritional information so you can make the best decision for you. Plus, you can easily spot any allergens in our ingredient lists and we pride ourselves on making our meals as inclusive as we possibly can.
XMeals gives you the ultimate flexibility - you can adapt your plan to your wishes, giving you the freedom to choose what dishes fit your lifestyle. 
No Cooking Involved
Enjoy a meal lovingly prepared by hand and save yourself the hard work of cooking it! These high-quality meals are handcrafted by professional chefs every weekend in the XMeals kitchen. They use fresh ingredients and carefully designed recipes, then deliver the meals right to your doorstep.
Our meals are perfect for everyone. For those that simply don't like cooking or don't have the time, these meals are also excellent for elderly customers or those with mobility issues. 
For cold dishes, simply lift open the lid and enjoy! If you prefer to enjoy warm dishes, don't worry. The instructions to reheat XMeals dishes are simple and easy to follow, with the majority of dishes being ready to eat in under 2 minutes.
All in all
We've covered some of the unique features that make XMeals the best plant delivery service in Canada, excluding one. The taste! XMeals offers a selection of cuisines, ranging from Korean dishes to Indian curries to Italian-inspired risotto, you're sure to find something that suits your palate. 
Add snacks such as chia seed puddings, delicious and satisfying chocolate squares, or oatmeal cookies, or choose from our range of freshly squeezed juices to add a boost of micronutrients. 
You can enjoy restaurant-quality food in the comfort of your home with our convenient meals, knowing that your choice is an ethical and responsible one too. 
Visit XMeals delivery service and browse our selection today! Our tasty dishes could be at your door in no time.