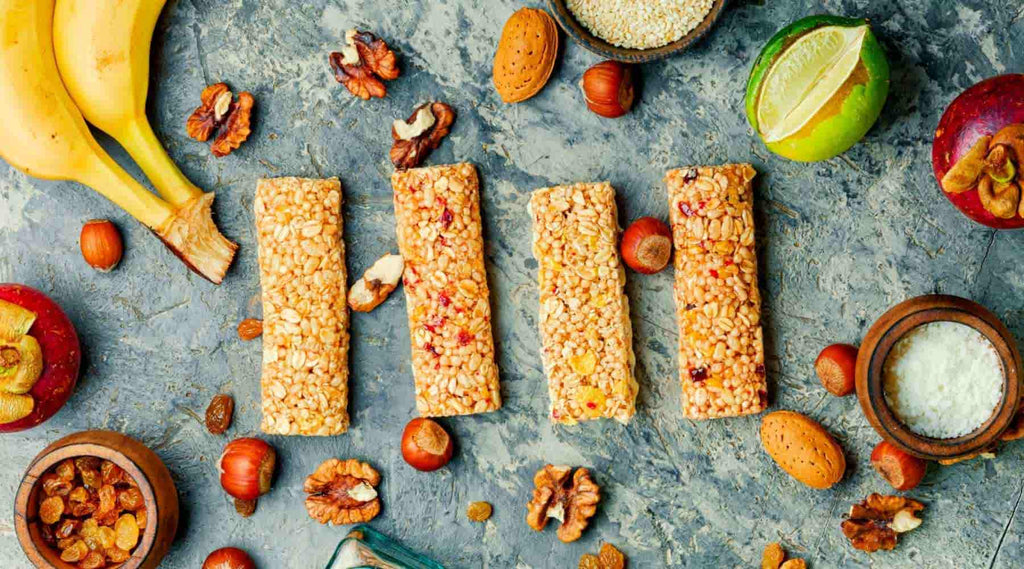 Keeping yourself healthy can prove to be almost impossible when you've got a busy schedule. A busy work, family and social life can make keeping a healthy, balanced diet a last-minute thought, let alone a priority! 
But the truth is, maintaining a hectic lifestyle will only be more manageable if you put yourself, and your health, first. Being the best version of yourself starts from within, so it's time to start being more conscientious about how to eat healthy meals and thinking about what you're putting in your body.
And XMeals is here to help! We've gathered our top 11 ways to eat healthy meals and snacks while maintaining a busy schedule. From selecting a healthy meal plan to choosing the right snacks, these super simple tips will hopefully show you how keeping a healthy, vegan diet can give you bundles of energy for all those exciting plans ahead.
Tips On How To Eat Healthy With A Busy Schedule
Tip 1 - Get smarter at snacking 
Here at XMeals, we know that healthy snacks will help to power you through during those busy, hectic days. If you want to know how to eat healthy snacks, visit our website! We recommend the Mid-day Squares, jam-packed with fiber and protein, and taste delicious, too. Or, why not grab a Peanut Butter Chocolate Oat Bag? Oats are the ultimate slow energy-release snack that can take you that extra mile in between meals. These are the ultimate healthy snack and are much better than shop-bought snacks!
Tip 2 - Make the most of leftovers 
When you're cooking meals, think ahead. Will you need a packed lunch tomorrow? Will you need an easy, pre-prepared dinner after that work event? If you can, make enough food for an extra meal so you always have a go-to, healthy option on hand. Get yourself some airtight food containers and take your leftovers as packed lunch, or put them in the freezer and save them for a rainy day. 
Tip 3 - Stock up on the right ingredients 
One of the best ways to eat healthy meals is to use healthy ingredients! We have lots of nutritious chef-made goods you should always have at home. Why not delve into some quinoa stocked in the cupboard for a quick, healthy meal base? You should always have some kind of legume, like chickpeas or lentils to 'beef up' meals too. And don't forget about stocking up on some vegan sauces! If you've got the right ingredients, making a healthy meal is easy.
Tip 4 - Anticipate your hunger  
We've told you about how to eat healthy snacks, but they're no good if they're sat in the cupboard all day. Work out which days you'll be your busiest, and take some healthy snacks with you to keep up your energy levels throughout the day. Why not keep an apple and banana in your bag, along with some Coconut Cashew Energy Bites to satisfy those feelings of hunger?
Tip 5 - Hydrate with the good stuff
Keeping hydrated is just as important as knowing how to eat healthy food! Being busy often means we forget to drink enough water, so keep a water bottle with you at all times so you can stay hydrated. Coconut water is packed with electrolytes and is famous for rehydrating the soul! Looking for something juicy and need some extra vitamins? Try out the Tropical Greens Juice - a refreshing cold-pressed made from kale, spinach, apple, pineapple, coconut water, and mango. Delish!
Tip 6 - Take time out to eat
One of the more difficult ways to eat healthy food when you're busy is taking proper time out to eat. Try and prioritize your meal times where possible. A good way to do this is by centering your plans around meals, for example, if you've got plans with a friend, invite them over for dinner so you can ensure you're slotting a proper meal into your schedule.
Tip 7 - Be prepared for those lazy evenings!
Let's be honest, not everyone can be bothered to cook a fresh, healthy meal at the end of a long, tiring day. So make sure you're prepared for those nights when you haven't got the energy. Visit the PlantX website for some ready-to-eat vegan meals which will save you time and effort. We love Cauliflower Tikka Masala for a comforting, nutritious quick meal. 
Tip 8 - Let yourself indulge…
Our beliefs on how to eat healthy food are grounded in the idea of balance. You need to let yourself indulge from time to time, especially if you have a busy, on-the-go kind of lifestyle. Never forget to treat yourself to some tasty vegan treats and puddings, like our chewy freshly-baked Chocolate Chip Cookie.
Tip 9 - Learn to love cooking
Cooking healthy meals is always more fun when you enjoy it! If you're not much of a natural chef, invest in some healthy meal cookbooks to find some extra inspiration, or buddy up with a friend and try out some of their vegan recipes.
Tip 10 - Have your 5 a day
Even if you're super busy, and you feel like you just don't have time to eat, always try and fit in your 5 a day. Making pre-prepared salads or smoothies is a good way to stuff lots of fruit and veg into one serving. Sneaky tips and tricks like that make knowing how to eat healthy food a breeze! 
Tip 11 - Try out XMeals healthy meal plan
Last, but certainly not least, try out our exciting healthy meal plan. Forget about cooking, planning meals, and preparing snacks, because we are here to do all the hard work for you! Benefit from fresh, chef-made 100% plant-based meals delivered straight to your door. It's breakfast, lunch and dinner for 3 or 5 days depending on what you choose. It's the perfect time-saving solution to eating healthily on your busy schedule.
To Sum Up…
We hope we've armed you with the best advice on how to eat healthy meals when navigating a jam-packed schedule. Busy lifestyles should never sacrifice our health, and more often than not we undoubtedly let this happen! Opting for a healthy meal plan simply means you can have more time for yourself, and less time preparing in the kitchen. Especially for those weeks when you just can't find the time. What better way to get nourishing, vitamin-rich vegan meals with minimal time and effort involved? We can't get enough of it!